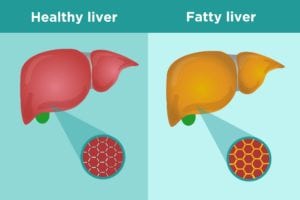 People who have psoriatic arthritis (PsA), face a high risk of developing nonalcoholic fatty liver disease (NAFLD), as do those with psoriasis. NAFLD, which is characterized by having an excess amount of fat in your liver, is dangerous because it can lead to inflammation and scarring (fibrosis) — and may ultimately progress to liver failure or liver cancer. But why are psoriasis and PsA risk factors for nonalcoholic fatty liver disease?
While methotrexate use likely plays some role — this drug, which is commonly used to treat PsA, can damage the liver — it doesn't provide a complete explanation for the connection between psoriatic arthritis and fatty liver.
In the past, experts have suggested that the same inflammation that causes psoriasis and PsA might damage the liver. It's also worth noting that many people with psoriasis or PsA also have obesity, diabetes, or metabolic syndrome, and those are also risk factors for NAFLD.
To figure out which risk factors are most apt to predispose someone to NAFLD, researchers at the University of Padova in Italy studied a group of 76 patients, 43 of whom had PsA and 33 who had psoriasis without psoriatic arthritis. They did not include anyone who had used methotrexate in the study; those who took non-steroidal anti-inflammatory drugs (NSAIDS) daily were also excluded.
Study participants had blood tests, including those to test their glucose and insulin levels, as well as liver ultrasounds. According to the findings, people with psoriasis were more likely than those with PsA to have NAFLD. The conclusion: "Insulin resistance is the main determinant of NAFLD and [liver fibrosis], while the additional contribution of arthritis seems small."
The study was published in the journal Clinical Rheumatology.
Keep Reading