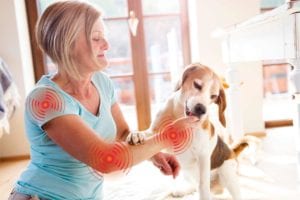 Overall, having a pet is darn *good* for your health, especially when you have a chronic illness like arthritis.
"Keeping pets promotes overall health, including psychological and social health, which are important factors that can influence symptoms of arthritis," says rheumatologist Jamal A. Mikdashi, MD, associate professor of medicine at the University of Maryland School of Medicine.
One of the most gratifying qualities about your pet is that it doesn't pass judgment or shame you on the days you're not feeling so hot. A 2011 study found that pet parents have a greater sense of self-esteem, are less lonely, and more physically active. Even better, the same study showed pets softened the blow when people felt social rejection, which is something people with chronic pain commonly feel when they have to forgo time with family and friends because of arthritis flares and fatigue.
Our cats and dogs are genuine members of the family — our furbabies — but as much as we love snuggling on the sofa with them, the hands-on care of walking, grooming, and feeding can be difficult when our body aches from arthritis pain.
How Arthritis Affects Your Pet Parenting
No doubt, the benefits of having a furry companion are many, but caring for your pet's daily needs can be hard to manage on some days. "Caring responsibilities may be limited by joint pain and functional impairment related to arthritic conditions," says Dr. Mikdashi. "Rotator cuff [shoulder] injury may occur when there is an increased strain; for example, when pulling the dog during a walk or resisting sudden tugging by the dog." If you have bad arthritis in your knees, you may be more likely to trip and fall when caring for your cat or dog, he adds.
Angie Byron has some of those concerns now, but she didn't give it too much thought two and a half years ago when she got a Labrador puppy. "I used to be fine with Labs, so I got another one," Byron says. But since she got her dog, the osteoarthritis in her shoulders, back, and knees has gotten worse. "We only go walking in my yard because I can't walk far," Bryon says. "I also get nervous that he will trip me because my knees are weak and stiff."
It's not just the joint pain or injuries that pet parents should be concerned about. It's also bending over to pick up your cat or the motion you make when you throw a tennis ball for fetch.
"Regardless of the type of arthritis, limitations in strength and range of motion abound," says occupational therapist Melissa Winkle, OTR/L, FAOTA, president of Dogwood Therapy Services in Albuquerque, New Mexico and author of Professional Applications of Animal Assisted Interventions: Blue Dog Book.
That's why the following tips, tools, and modifications from Winkle and pet parents who have arthritis are so encouraging. They give us real hope that we can have an active role in our furbaby's care, despite our own physical limitations.
Grooming Your Pet When You Have Arthritis
When your dog or cat has a coat that requires brushing, it can get, well, hairy if your hands are achy or if you need to bend or lift your furbaby to brush them. Ann Nesterud of Stockholm, Sweden, says her cat makes it easier for her. "She jumps up on the bed when its time for brushing." She's not sure who trained whom, but it works for them.
A brush that is comfortable to use is essential. Winkle suggests to build up the brush handle with a foam material like the kind used to insulate pipes. Self-cleaning brushes with a push-button release remove hair from the bristles for easy clean-up.
Use a brush specifically made for your pet's hair. For short hair, Winkle recommends a massage brush that fits in your hand without the discomfort of holding onto to a handle. A wire or boar hair palm brush that does not require as much grasp or strength is ideal for a pet with medium to long hair.
Bathing Your Pet When You Have Arthritis
Giving your dog (or cat) a bath isn't the highlight of anyone's day, but the task is a lot more manageable when you have access to the same equipment dog groomers use. Check your city for a dog self-washing facility.
"They provide all you need and include bathtubs that raise and lower with the push of a button and hand-held sprayers that keep the water right where you want it," says Winkle. Power dryers with handles or wide grips also help your hands, and you and your dog can stay stable on your feet with no-slip mats. Winkle says these stations charge a fraction of regular grooming prices.
If you prefer to bathe your dog at home, choose bathing tools that are less taxing on your body. Winkle recommends a hand-held showerhead. This pet bathing tool straps on your hand so you can use both hands to wash and stabilize your dog. Or choose a handheld showerhead with an extra long hose, so you have the option to sit or stand near the tub. Control the water with the easy on/off switch in the handle instead of fumbling to reach the faucet knob. Have all your supplies within reach and use a non-slip bath mat in the shower for your dog.
Dealing with Litter Boxes When You Have Arthritis
Nesterud has a litter box for each cat, but the quality is far more important than price. "I use a high-quality clumping litter and keep a generous layer of litter in each box. With regular scooping, I don't have to change it all very often." If pouring the litter gets to be an issue, she pours it into a smaller container to top off the litter box after scooping. Another option to consider is a self-cleaning litter box with no scooping and more extended periods between cleaning the box.
Feeding Your Pet When You Have Arthritis
The easiest way to feed our furbabies would be to drop a piece of food from our meals while we're sitting at the table, but that's not healthy for their digestive system. When your hands are aching, jumbo pet food bags can be difficult to open, seal, and pour from. Nesterud keeps a small container of cat food near the feeding station and refills it from a larger bin, so she doesn't have to pour from a heavy bag every day.
Bending over to feed the dogs can be a daunting task too, but there are a couple of solutions for it. "There are a variety of raised feeders [like this one or this one] that can prevent further injury or balance issues as they are raised off the ground," says Winkle. And what about those days when your cat or dog wakes you up for breakfast before you're ready to get out of bed? A timed feeder is ideal as it automatically dispenses food on time so if you're having a flare, you don't have to worry manipulating bags or your pet not getting fed on time.
Dogs especially lap up water frequently, leaving you to refill large bowls frequently. Winkle recommends a BPA-free pet water dispenser that only requires a weekly refill of water. That will significantly reduce water spills from carrying the bowl and carrying and bending bowls, heavy with water.
Walking Your Dog When You Have Arthritis
According to Winkle, the leash and lead are the critical components for safer and more enjoyable walks. These tools ensure more parental control than painful choke chains or ping collars. A round slip leash made from materials such as polypropylene is softer than nylon. Or use foam pipe insulation to pad your leash handle. The length and type of leash keep walks more manageable too. "Keep the leash at four feet in length to decrease mechanical advantage of a dog gaining speed over distance to pull you down," advises Winkle.
And while the comfortable handles on retractable leashes are tempting, Winkle discourages using them as the inconsistent leash length can confuse pets about boundaries and can cause injuries, especially for people with balance issues.
Parker, Byron's energetic Labrador, pulls a lot on his walks. "It causes my right shoulder to hurt, and I get nervous that he will trip me because my knees are weak and stiff," she says. Her osteoarthritis is in her knees, shoulders, and back so with Parker's pulling, her walks with him are limited to her yard.
A refresher in obedience training is part of Byron's plan for a more enjoyable walk and peace of mind. Winkle has a DIY suggestion. "Try putting natural peanut butter on a long plastic spoon and offering a lick when your dog is in the correct position. Soon, he will know to stay right next to you." If your hand is particularly achy, try a lick stick, a treat offered in a roll-on container with an attached sturdy string.
Apart from Heather Robertson's knee surgery recovery, she rarely misses a walk. She bought a mobility scooter before her surgery so she could still take the dogs out for their walk. And when she needed both hands to get up the stairs the week after her surgery, she bought her dog Kenny a backpack. "He carried my iPad, phone, ice packs, and other necessities up and down for me. He was brilliant!"
Robertson's dogs are large and walking both at the same time wouldn't be possible with a traditional lead. She uses a gentle leader head collar, much like a horses' head collar. Winkle also proposes a well fit harness for more stability, or a cross body leash to provide a hands-free walk if your balance and postural strength are good.
Robertson, of Canterbury, Kent in the UK, knows the importance of keeping warm when you have arthritis. "I make sure that I don't get cold by wearing arthritis gloves under ordinary ones in the winter." She also tosses a few hand heaters in her pockets.
Pet Parenting Adjustments Are So Worth It
"The benefits of a pet are many. They'll often encourage you to exercise, which can help with joint pain and weight loss," says rheumatologist Paul Sufka, MD, of Health Partners in St. Paul, Minnesota. "They have been shown to improve your mood and help reduce stress, which could help with chronic pain."
Dr. Sufka frequently hears that taking care of pets is a major motivator for many of his patients. "I'm not sure that there's really a way to quantify this, but clearly it's making a difference for some people."
That's clearly the case for Kris Bekker, a nurse in Toledo, Ohio with osteoarthritis in her shoulders, temporomandibular joint, and in both knees (with total knee replacement on the horizon). "I feel as if I'm losing my independence and quality of life," she says. Her saving grace is her bulldog Beau. "If it weren't for him, I would have a very empty life. He gives me a reason to get up in the morning."
After a long day, Bekker heads for her comfort zone: on the sofa with Beau.
"He'll jump up and lay his huge head on my lap," she says. "It seems like he's saying, 'It's OK mom, you got through another day.'"
Keep Reading