Fact: More people than ever are being diagnosed with chronic degenerative diseases. Fifty-four million adults and 300,000 children in the U.S. presently have some type of arthritis. Also fact: People are absolutely genius at coming up with ways to help people living with arthritis. In addition to cutting-edge medical treatments, there are a ton of assistive products — both tried-and-true and brand-new — on the market to help make your life easier.
"These types of tools are so important for people with arthritis," says Tom Ryan, a physical therapist who works with arthritis patients in private practice in Denver, Colorado. "Not only do they help reduce pain, lessen strain on already damaged joints, and improve comfort, but they help people maintain their independence, which is perhaps the most important benefit."
And what better place to look for assistive devices than in the world's biggest marketplace? We combed through the best-sellers to find which tools have the highest ratings and the best track record, based on expert opinion and reviews of arthritis patients themselves.

1. Adaptive Utensils
These forks, spoons, and knives simplify eating thanks to wide, lightweight handles covered in rubber for a no-slip grip. "Holding things in a tight grip forces joints to go to the end of their range of motion, which causes irritation and additional inflammation, not to mention pain," Ryan says. "The wide, light handles allow for a looser grip." ($13.95/set of 4)
Review: "I ordered the adaptive utensils because I have arthritis in my thumbs and was dropping my silverware all the time. The handles and grips sure make a difference! I washed them on the top shelf in the dishwasher and they were fine." — Kathy

2. Vi&Vi PocketDresser Multi-Tool
This handy multi-functional tool is the Swiss Army knife of assistive devices. It has two sizes of button hooks, a button loop, a zipper pull, a zipper pick, and a shoelace hook. It comes with a stabilizing hand strap. Plus it folds up neatly and slides into your pocket or purse for ultimate portability. "My patients love tools that help with the basics of getting dressed, but be aware there is a learning curve with these," Ryan says. Not sure how to use them? He recommends asking your doc or physical therapist for a quick tutorial in their office. ($21.85)
Review: "At the risk of sounding like a gushing fangirl…where has this gadget been all my life?? I have rheumatoid arthritis for 39 years (got it as a kid), and my hands are basically trashed. I tell friends to put mittens on and try to zip and button their pants if they want to get the gist of what dressing's like for me. The coolest component for me is the big button hook that works on jeans buttons! This opens up a whole lot more options for me when it comes to buying jeans. Only downside is that it's a bit heavy, which may create issues for some. I plan to get one to keep in my already-a-bit-too-heavy purse, but I think it's worth it." — Karol

3. Crutcheze Padded Hand Grips for Walkers
If you use a walker to help you stay mobile, then you know how quickly the metal handles become painful and slippery. The slide-on pads give you a safer and more comfortable hand-hold. Anything that improves comfort and helps people stay mobile is a good investment, Ryan points out. ($19.99/set of 2)
Review: "Following leg surgery I've been non-weightbearing for a few weeks, relying on a walker. I was experiencing a lot of pain in my hands trying to use the walker, especially because I have rheumatoid arthritis. After looking at several different brands online I ordered the Crutcheze Walker pads, and only wish I had gotten them four weeks ago. In less than a week of using the Crutcheze my hand pain has been virtually eliminated, making it so much easier to get around with the walker. I'm also going to try them on my crutches, which I'm just starting to use, and will likely order a second pair. These well-constructed pads fit securely without any slipping, and installed in seconds. I did add the extra pad included with the purchase. The Crutcheze pads are worth every penny. Highly recommended!" — Plegendre

4. Bracelet Magic Bracelet Fastener
Having arthritis shouldn't cramp your style — fashion or otherwise. Unfortunately, tiny jewelry clasps can make accessorizing difficult. This bracelet fastener will help you easily hook your favorite bracelets and necklaces. ($12.95)
Review: "This item arrived beautifully packaged with a full visual color instruction sheet. I have rheumatoid arthritis and was able to put my own bracelet on today. The design and idea is fantastic. Looks very well made and I am sure it will last a long time. I would highly recommend this to anyone needing help with bracelets." — Anita967

5. Kitchen Krush Multi Kitchen Tool
Cooking can take on a whole new level of challenge when you're dealing with arthritis. This tool won't make you a professional chef, but it will make opening all sizes of bottles, jars, and cans a cinch. "It's not just people with arthritis in their hands or fingers that can need help opening jars and bottles. It also requires a lot of shoulder involvement to rotate your arm and your back to stabilize the movement," Ryan explains. Because so much more is involved than simply twisting your hand, this type of tool can be a life saver for many people, he adds. ($14.70)
Review: "AMAZING!!! Purchased for my mom with rheumatoid arthritis and she almost cried because she can finally open a bottle with ease! It was effortless and easy to use. The big one you have to make sure its aligned properly with the bigger caps, but easy and effortless nonetheless!! This is a life changer!" — Amazon customer

6. Brix CanKey Ring Pull Can Opener
Popping open a cold beer, soda, or sparkling water at the end of a long day is a pleasure you might have given up, due to how tough those little pull-tabs on the top are. Thankfully this simple device lets you open any ring-top can in seconds. ($5.36)
Review: "[This is] A bit more expensive than other single purpose pull-ring assists but completely worth it. The rubberized ones initially seem soft on my arthritic hands but then fall apart rather quickly and require repair. This one is very lightweight but also seems durable. The arc angle is perfect for both small and large cans of cat food, which is my use of choice. The thin blade makes insertion a snap and the rounded handle is nicely ergonomic. The off-white color blends well in my kitchen but is also easy to identify on the countertop. Highly recommended! A+++++" — Paul

7. Vive Button Hook and Zipper Pull
You never realize how many button-down shirts, jackets, coats, and dresses you own until every little button causes excruciating pain. This pocket-sized combination tool allows you to do up buttons and pull zippers with ease. ($10.49)
Review: "This button hook is such a great old idea reconfigured into a more user-friendly form for folks like myself with less dexterity who experience difficulty performing simple little tasks that we used to take for granted, such as buttoning my shirt or opening and closing a zipper. I bought a second one for my good friend who has arthritis in his hands." — Bill

8. Royal Medical Solutions Dressing Stick
All the button hooks and zipper pulls in the world won't be of any use unless you're able to get your clothes on in the first place. This 28" hooked stick helps you pull on sleeves, pull up pants, and other motions that might be too painful otherwise. Being able to dress yourself saves on embarrassment and is a vital skill for remaining independent, Ryan says. ($14.99)
Review: "I find this stick in combination with my grabber stick invaluable. I use the hook to help when I'm lifting up pants or underwear and I use the other end to help push off pants, socks, underwear, etc. There are lots of videos on YouTube or just a google search to show you how to use this stick depending upon what your issue is (i.e. shoulder, back, etc.) and I strongly recommend watching one or two to get the hang of it." — Michelle

9. Royal Medical Solutions Deluxe Sock Aid
Pulling on and adjusting socks is one of those things you don't realize can be really tricky until you struggle with hand and wrist pain or mobility. This plastic device allows you to slip socks on and pull them over your feet with minimal effort. ($9.95)
Review: "Ad pictures don't do this justice; it is really easy to use, but you should put the sock completely on the puller. With size 14 foot and size 13 cotton socks, it works like a charm. Can pull them all the way up my ankle and leg. At first, I did not put the sock on far enough, but that is the trick. You also might want to put a clean sock on your good foot, if you have one, to stretch it, then put that sock on the Puller. I am 79 and can not put a sock on my left foot; this tool is wonderful." — Gary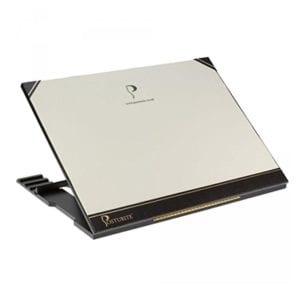 10. Northwest Medical Posturite Writing Board
Arthritis in your neck, upper back, hands, or arms can make writing or reading a real pain (literally). This board, designed specifically for patients with medical issues like arthritis, adjusts to the perfect ergonomic angle to hold your papers or book. It's also magnetic, allowing you to keep pens and paper exactly where you want them. Office tools like this can help you keep doing your job without sacrificing your joints, Ryan says. ($129)
Review: "I really like this board, highly recommend. Also helps with posture." — Sane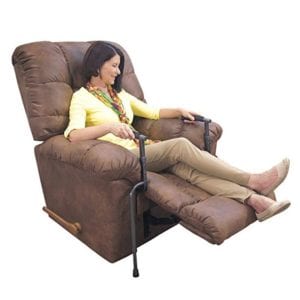 11. Able Life Universal Stand Assist
Sitting down feels like a relief but having to stand back up — especially if you have limited mobility in your knees — may make you think twice about lounging on the couch for a Netflix marathon. This metal frame tucks neatly into most couches, giving you a portable handle to use to stand up without risk of falling. "You have to have quite a bit of hip and knee mobility to sit without falling and then stand up again, which is something many people with arthritis lack," Ryan says. Having something to hold onto, like this rail, can be invaluable for preventing injury and maintaining proper form, he adds. ($79)
Review: "Indispensable. Easily assembled and customizable. After three visits, my wife's physical therapist could not resist asking details about Stand Assist. He was impressed. Ordered and bit the bullet paying for overnight delivery and has seen constant and welcome service from day one. Very adjustable which enhances the ease with which one can rise from a seated position. Very well constructed and sturdy enough to rely upon. We are considering purchasing a new chair confident the Stand Assist will accommodate any new chair. Our current chair is a recliner and the Stand Assist rides with the tilted seating surface seamlessly." —Paperworker

12. Carex Upeasy Seat Assist
If you need a little more help standing up from a seated position, this adjustable, movable, cushioned seat will give you a good boost ― doing 70 percent of the work needed to get up. It comes in two sizes, depending on what you weigh. ($83.76)
Review: "I'm a 60-year-old woman that is extremely active and works hard, physically, every day. About six months ago I began having trouble with my right knee…swelling, painful…for no apparent reason. Doc said it's arthritis. I started having trouble standing up from a seated position. Then two weeks ago, I fell. I broke my left ankle in two places. Getting up from a seated position was almost impossible. I didn't want a lift recliner. I found this Upeasy Seat and, if I could dance right now, I would certainly "cut-a-rug"!!! Everything immediately got way better for me!! It does exactly as advertised! I've only had it for a little over a week so I can't speak of it longevity. If it lasted only three months, I would still buy it." — C Higgins

13. AdirMed Adjustable Bed Rail
Getting out of bed with arthritis doesn't need to require advanced level gymnastics or an embarrassing slide off the side. This sturdy, movable chair rail tucks under your mattress to give you a firm grip to sit or stand. As a bonus, it comes with a pouch to keep your glasses, phone, and other essentials at arm's reach. "This is great for people who may not have a lot of the back and leg strength needed to move from lying down to sitting and then from sitting to standing," Ryan says. "It can also help prevent falls." ($29.99)
Review: "Adair's soft comfort grip handle and its rock-solid frame changed my waking experience. Arthritis makes even rolling over a difficulty. My new under-mattress, stable, bed assist handle helps as I reach for it to turn over, sit up safely, swing my legs out and grip it comfortably, holding on until all my muscles engage and my legs feel secure beneath me, (I might even flex my knees on rainy days) and then I can walk away, upright. Fear of falling made me lean way over as I got out of bed unassisted, afraid to fall in attempting to stand upright. I walked hunched over away from my bed. Now I begin my day upright and find it way easier to maintain an upright position all day. The black Adair handle is practically invisible, too, it makes middle of the night search for an extra blanket an easy find: prettily folded over the arm of my Adair bed handle assistant." — Cheetah

14. PalliPartners Pull-On Knee Cushions
Kneeling down can be excruciating with arthritis but these knee cushions provide the padding that nature no longer does, making it easier to do things like garden, clean, or get on the floor to play with children. They also help keep your knees apart during sleep, allowing a more comfortable position. ($15.99/set of 2)
Review: "Very comfortable I had arthroscopic surgery on both knees in 13 months twice on left knee six months apart. My knees still pop sometimes turning over and swell overnight I found three solutions: this for the right knee, a compression knee pillow on the left, and compression sleeve during the day. Both cushions at night help with hip pain also. Very happy." — Storm

15. Back Support Systems Wedge Pillow
Arthritis in your back or legs may make finding a comfortable sleeping position feel impossible. This wedge pillow takes the pressure off your back while aligning your joints so you can get the rest you need. It comes in four sizes for different heights. Orthotic pillows and supports can be a great tool but they only help if they fit your body just right, Ryan says. Ill-fitting devices can cause more problems than they solve so make sure to follow size charts and you can always take your device in to your PT so they can evaluate the fit for you, he adds.
"Any type of back, leg, knee, or neck pillows should make you feel instantly very comfortable. If they take a lot of adjustment or cause numbness or pinching, they're not a good fit for you," he says. ($69.97)
Review: "This was exactly what I've been looking for. Regular pillows were just not doing it anymore. I really needed something with enough height and firmness to really lift my knees up enough to take the strain off of my lower back. The cover is soft, the whole thing seems to be fine quality. I'm almost giddy, having found exactly what I've searched for." — Beemom

16. UTTU Sandwich Pillow
To round out your deluxe sleeping experience, this ergonomic memory foam pillow provides support and alignment for your neck and spine, taking the pressure off uncomfortable joints. It adjusts in height to provide best fit for you. ($39.99)
Review: "It is sooo comfortable. The shorter height is perfect for me, and the curved shape is perfect for my ovaloid noggin. The foam is just the right softness. It seems crazy that a pillow would make such a difference in my sleep, but thus far I have slept upon it for about a week and I no longer turn about in my sleep to get comfortable; I find that I lie down, feel extremely comfortable, fall asleep, and wake up in the same position but completely refreshed! It's unreal. Feels almost like latex." — Recycled

17. Vive Extended Shoe Horn
Getting shoes on and off can be a real struggle and while a regular shoe horn can help, it won't be of much good if you have trouble bending over. This shoe horn has a 24" handle, making it simple to slide on your shoes while still standing. "Using a standing shoe horn decreases strain on both your back and your hands," Ryan says. ($14.99)
Review: "I thought this might be a useful item but did not realize just how great it was to be able to slip on my shoes on the first try, and not destroy the back of the shoes. I have limited mobility and the long length of this shoe horn, combined with what feels to be a sturdy plastic was a pleasant surprise. It does take some practice to get used to using it, but then you wonder how you were doing it without it." — Ken

18. Emilio Torazzi Large Scissors
Cutting requires a manual dexterity and hand strength that many arthritis patients simply don't have. These large scissors have rubberized handles to prevent dangerous slips and extra sharp blades so you don't need to apply as much pressure. Similar to assistive utensils, anything that allows you to use a more relaxed grip is a good idea, Ryan says. ($10.95)
Review: "Great scissors. Of higher quality than that found in most stores and for a price below retail. Will definitely be back for future purchases." — Julian

19. Zen Toes Toe Separators
Toe arthritis can be one of the most frustrating types — you never realize how much you rely on the little guys until they start hurting — so keeping them comfy is a top priority. These gel toe separators do the trick nicely. ($9.49/pack of 4)
Review: "I really like these. They are well made, comfortable, and really make a difference with my problem of an overlapping toe. I like the material it seems sturdy also I like the way the product is kept in place by hooking onto another toe. Other products I've tried tended to slip or move as I walked making them very uncomfortable to wear. Also these keep your toes straight and in the correct position." G.R. Pearson

20. Royal Medical Solutions Long Grabber Reacher Tool
Picking things up is definitely one of those things that you take for granted — that is, until arthritis makes it painful to bend over, much less pick up small objects. These sturdy metal 26" grabber tools will allow you to easily pick things up off the floor or reach items on shelves. "These are one of the tools my patients find the most handy, they love them," Ryan says. "Just be careful reaching overhead with them, they should only be used to pick up very light items if you're reaching up." ($19.99/set of 2)
Review: "I am disabled and have mobility problems as well as bending and stooping to reach anything on the floor. These grabbers are the best things I have ever used to help me reach items that have become unreachable for me. They save me many extremely painful steps to walk for things and help me pick up items that previously I just had to leave on the floor for someone else to retrieve later. As an example of how good the grip is, I have been able to pick up really small pills that have hit the floor. The grabbers are that good to get an item that tiny! I also pick up my shoes to put on and then use it to put them away. I even use it to help me pull clothes from the washer and dryer as I do laundry. Both machines are too deep for me to reach the bottom or back to get all items. The grabbers have made all the difference. I highly recommend it!" — Kitty

21. Ziraki Coccyx Seat Cushion
People don't often talk about arthritis pain in their butt but it's a real problem. (Okay, technically, it's usually arthritis of the SI and hip joints.) This sturdy, thick, padded seat will have you sitting pretty without worrying about sliding off even slick metal chairs. Ryan adds a note of caution: "Sitting on padded seats can be destabilizing for some joints in the hips and lower back. Some people find that it makes sitting much more comfortable, but check with your doctor before using one as it is sometimes better for some patients to sit on a very firm surface instead," he says. ($18.99)
Review: "I have bought so many cushions to relieve the pain I suffer from a broken tailbone complicated by arthritis, that I have lost count. I can't believe the relief I have experienced with this cushion. As a matter of fact I am writing this review while ordering two additional cushions, one to keep in my car, and another one for my computer chair. They are in addition to the original one I purchased to keep in my living room. I would highly recommend this cushion to my friends, or anyone with problems similar to mine." — LMS
Keep Reading