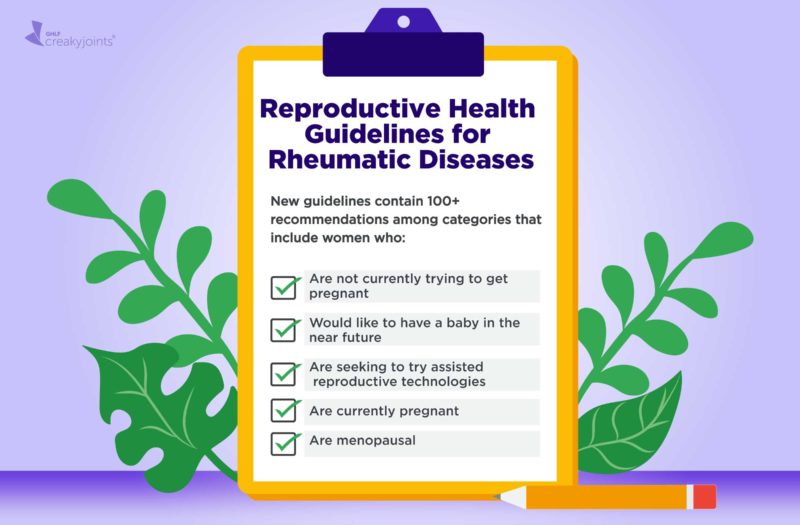 Women with rheumatic conditions like rheumatoid arthritis (RA), psoriatic arthritis (PsA), and lupus can and do have healthy pregnancies. But there's no doubt that living with a chronic condition often makes family planning and pregnancy more challenging. In an effort to summarize best practices for patients and providers, the American College of Rheumatology (ACR) recently released its first-ever guideline on reproductive health.
Aimed at everyone who has a rheumatic or musculoskeletal disease (and the clinicians who treat them), this document provides evidence-based guidance on how to have a healthy pregnancy, as well as recommendations about contraception, use of assisted reproductive technologies (like IVF), and hormone replacement therapy for menopausal women.
"This guideline is paramount, because it is the first official guidance addressing the intersection of rheumatology and obstetrics and gynecology," Lisa Sammaritano, MD, lead author of the guideline, said in a statement. "Rheumatic diseases affect many younger individuals; however, little education has been provided to rheumatology professionals on current ob-gyn practices."
The new guideline makes 131 recommendations. (You can find the full document here.) Here are some of the key highlights that every woman with a rheumatic disease ought to know about:
If you're not currently trying to get pregnant:
Contraception, ideally a long-acting option such as an IUD or progestin implant, is strongly recommended.
Women with anti-phospholipid (aPL) autoantibodies and those who have antiphospholipid syndrome (APS) — which is common in lupus — should avoid hormonal contraception (such as birth control pills) that contains a combination of estrogen and progesterone. Taking medication with estrogen increases the risk of dangerous blood clots, and women with APS already face a higher risk of this problem.
If you'd like to have a baby in the not-too-distant future:
Talk to your doctor and try to get your disease activity under control now. The guideline urges providers to explain to female rheumatic patients that they're far more likely to have a healthy pregnancy (and a healthy baby) if their disease activity is low when they get pregnant.
If you're currently using a medication that is not safe for use during pregnancy, switch to one that is before you conceive so you and your doctor have time to make any necessary adjustments.
If you're having trouble conceiving naturally, it's OK to try assisted reproductive technologies (such as IVF) provided your rheumatic disease is "uncomplicated" (stable/not active), you're negative for aPL, and that any medication you require is safe to continue taking throughout a pregnancy.
Women with APS should take blood thinners during assisted reproductive technology procedures to reduce the risk of dangerous blood clots.
Women with systemic lupuserythematosus (SLE) or SLE-like disorders, Sjögren's syndrome, systemic sclerosis, or rheumatoid arthritis should consider getting tested for autoimmune antibodies (anti-Ro/SSA and anti-La/SSB) before conceiving.
If you're currently pregnant:
Women with SLE or SLE-like disorders, Sjögren's syndrome, systemic sclerosis, or rheumatoid arthritis should get tested for autoimmune antibodies once early in pregnancy (if they didn't get tested prior to conceiving).
Women with active disease should use "steroid-sparing" medication and avoid high-dose glucocorticoids (steroids) throughout their pregnancy.
Avoid non-steroidal anti-inflammatory drugs (NSAIDs) in the third trimester. Using these drugs at this stage of pregnancy has been linked to an increased risk of a fetal heart defect.
Women with positive aPL or APS should be monitored far more closely throughout pregnancy because they have anincreased risk of complications including preeclampsia and miscarriage.
If you're menopausal:
Women who have severe vasomotor symptoms (such as night sweats and hot flashes) can safely use hormone replacement therapy (HRT) as long as they don't have SLE, a positive aPL, or any other contraindications that might make doing so dangerous.
When in doubt, talk to your rheumatologist and your ob-gyn (and perhaps a maternal fetal medicine expert, who specializes in high-risk pregnancies).
"We intend that this guideline be used to inform a shared decision-making process between patients and their physicians on issues related to reproductive health that incorporates patients' values, preferences, and comorbidities," the authors concluded.
Track Your Symptoms with ArthritisPower
Join CreakyJoints' patient-centered research registry and track symptoms like fatigue and pain. Learn more and sign up here.