Caring for Children with Juvenile Idiopathic Arthritis (JIA): A Parent's Guide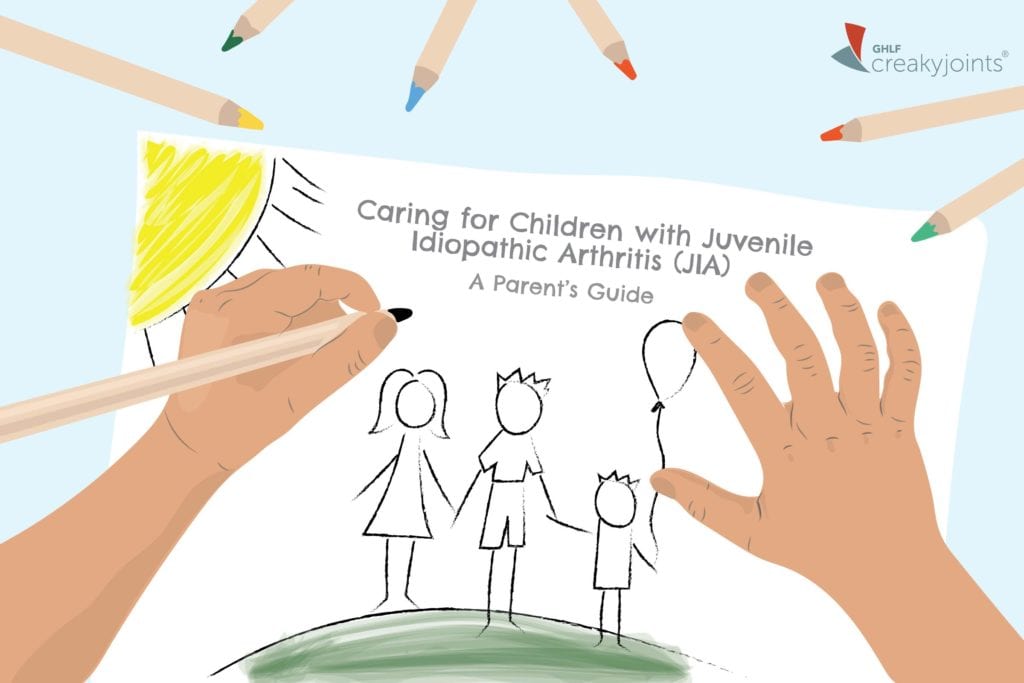 Welcome to the first CreakyJoints® guide for people caring for children with juvenile arthritis.
With the help and guidance of our Patient Council (a group of patient leaders from across the country), we have published the first comprehensive document that helps all parents and caregivers of children managing their JIA disease journey.
It's designed to help you make decisions about your child's health in an ongoing partnership with your rheumatologist and other health care professionals.
---
Download Your Free Copy
Please fill out the form below to download the inaugural JIA guidelines for free.
---
Juvenile idiopathic arthritis is a disease that has many different forms. JIA affects as many as 294,000 children and adolescents in the U.S. today. Regardless of whether your child has lived with JIA for years, or has been recently diagnosed, this guide will give you more information about:
Current treatment options
 How these medications work
 How your child will take these medications
 Possible side effects and tips for you to manage them
You'll learn practical tips for you and your child on ways to manage JIA symptoms other than by taking medications, such as:
At-home pain remedies
 Ways to get more exercise
 Diet and nutrition advice
Tips for a good night's sleep
 Stress management
We also share information to help your child thrive with JIA at school, and offer tips to help your family afford JIA prescription medications.
This first edition has been edited by leading doctors and health care experts. It will be updated and improved regularly as new research, information, and treatments on JIA become available.
It's also been reviewed by parents of children with JIA, to make sure the advice is helpful and relatable.
---
About the Patient Guidelines
If you haven't had a chance to see our Patient Charter, please take a look. It spells out really clearly, we think, what it means to us to be patient-focused, and it gets at the core of our mission.
There are, of course, many sets of recommendations designed to help medical professionals deliver the best care possible — including the American College of Rheumatology's clinical practice guidelines. In those guidelines, the ACR offers guidance on "particular patterns of practice and not to dictate the care of a particular patient." That's an invaluable tool for doctors to use when they weigh different treatment options, but those guidelines are written for professional, rather than lay readers. For patients who haven't graduated medical school, the language can be a challenge, to say the least.
The authors of our JIA guidelines know personally how difficult it can be to talk about living with juvenile idiopathic arthritis, and they share tips based on what has worked, and not worked, for them.
One important note. These guidelines absolutely aren't a replacement in any way for heeding the advice of your child's treating physician. You should never trust anyone or any document that purports to do that. We see this set of recommendations as a tool to help prepare you for your meetings with your child's health care team. Think about it as a one-stop shop for JIA information, so you're prepared to then dig deeper and better understand some very technical terms and concepts.
In the effort to help children living with JIA, several professionals overlap: doctors, nurses, physical and occupational therapists, pharmacists, other medical professionals, insurers, legislators, and others. Everyone is committed to the same end goal of improving your child's health, but that doesn't always mean that everyone has the same seat at the table, or that patients have as much control of their destinies as they could. This handbook helps restore that balance.
A special thank you to our partners at Bristol-Myers Squibb for their generous sponsorship of this important patient resource.
The contents of this website are for informational purposes only and do not constitute medical advice. CreakyJoints.org is not intended to be a substitute for professional medical advice, diagnosis, or treatment. Always seek the advice of a physician or other qualified health provider with any questions you may have regarding a medical condition.