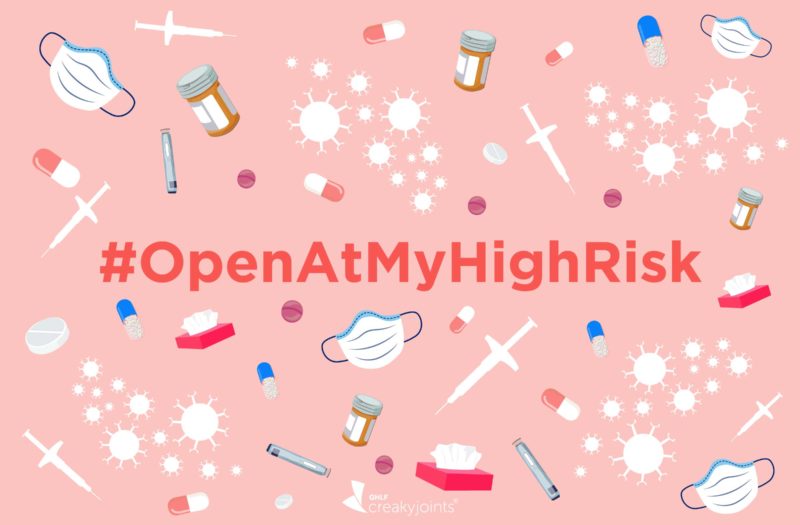 Last month, a hashtag called #HighRiskCovid19 that trended on Twitter ignited a movement among people living with all kinds of chronic health conditions that put them at a higher risk for COVID-19 complications.
Now, the same patient leaders behind that powerful hashtag have launched another equally important one: #OpenAtMyHighRisk. The goal of this hashtag, according to patient leaders Molly Schreiber, Charis Hill, Dawn Gibson, Jennifer Walker, Jed Finley, and Ray Bouchard, is to make sure chronically ill patients are at the forefront of discussions about loosening stay at home and shelter in place orders.
As more states implement such plans (you can read a list state-by-state reopening policies from CNN), people who are immunocompromised or at a higher risk for COVID-19 complications are understandably worried. Reopening states too soon — and without measures in place to protect vulnerable patients and health care workers, such as comprehensive testing and tracking — stands to unravel the protections that have helped save lives so far.
As Axios put it in a recent news update, "if any city or state begins lifting social distancing measures without the right public health measures in place, it runs the risk of allowing the virus to get out of control." If a city or state already has a growing number of coronavirus cases, "the effect of lifting the measures is akin to pouring gasoline on a fire."
Here are some of the most powerful tweets from the #OpenAtMyHighRisk campaign. Hop on Twitter and contribute your story to #OpenAtMyHighRisk. We encourage you to visit the hashtag on Twitter to read and share every single one.
Get Free Coronavirus Support for Chronic Illness Patients

Join the Global Healthy Living Foundation's free COVID-19 Support Program for chronic illness patients and their families. We will be providing updated information, community support, and other resources tailored specifically to your health and safety. Join now.