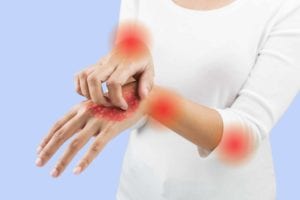 Guselkumab (Tremfya), a monoclonal antibody that blocks interleukin-23 (IL-23), is FDA-approved for psoriasis. Can it also help treat psoriatic arthritis? Results of a new phase 3 trial point to yes.
About 30 percent of people with skin psoriasis also have psoriatic arthritis, a type of inflammatory arthritis that causes symptoms such as joint pain, stiffness, and swelling. In the new study, which was presented at the 2019 American College of Rheumatology/Association of Rheumatology Professionals Annual Meeting in Atlanta, 381 adults with psoriatic arthritis were randomly assigned to receive 100 mg of guselkumab every four weeks, 100 mg of the drug every eight weeks, or placebo injections. (Guselkumab is a biologic drug that is taken by injection.)
Some of the patients in the study had never taken a biologic drug; others had previously tried a TNF-inhibitor — a different kind of biologic — but were not currently taking one.
According to the findings, more than 50 percent of patients in either guselkumab group had an improvement in disease activity of at least 20 percent (ACR20 criteria) within 24 weeks, compared to about 22 percent of those in the placebo group. Having previously taken a TNF-inhibitor did not seem to have an impact.
"In patients with active PsA… [guselkumab] demonstrated efficacy for joint and skin symptoms, physical function, and quality of life relative to placebo," the authors concluded.
The authors also noted that although there were nine serious adverse events, including one death, participants in the treatment and placebo groups were equally likely to develop an infection. "The infection risk is surprisingly low," lead author Atul Deodhar, MD, of Oregon Health and Science University, told Healio Rheumatology. "Overall these are very positive results."
Track Your Medications with ArthritisPower
Join CreakyJoints' patient-centered research registry and log your medications to track side effects and impact on disease activity. Learn more and sign up here.
Keep Reading
Janssen, which manufactures guselkumab (Tremfya), is a corporate sponsor of the Global Healthy Living Foundation.