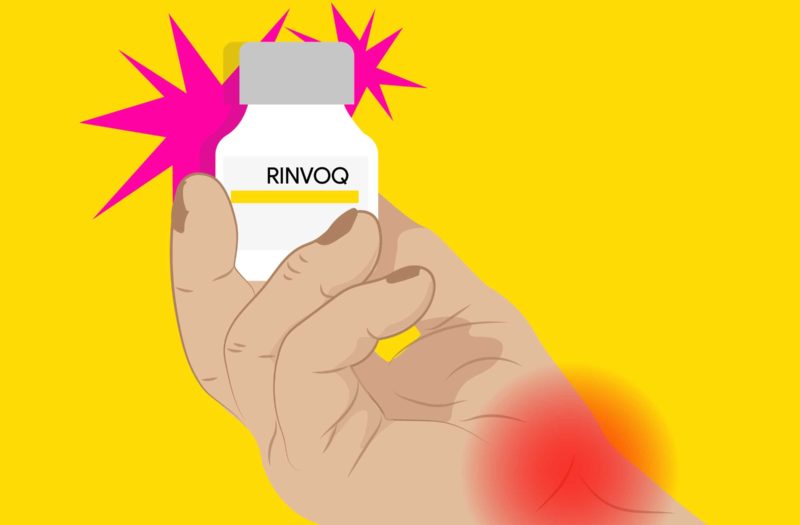 In late 2017, tofacitinib (Xeljanz) became the first-ever Janus kinase (JAK) inhibitor to gain approval from the U.S. Food and Drug Administration (FDA) for the treatment of psoriatic arthritis (PsA), a type of inflammatory arthritis  that often causes both joint inflammation and skin symptoms (psoriasis).
Now another JAK inhibitor, upadacitinib (Rinvoq), is poised to follow, thanks to results of a phase 3 clinical trial that pitted upadacitinib against a placebo or adalimumab (Humira), a TNF inhibitor.
Both JAK inhibitors and TNF inhibitors are examples of targeted medications that act on the immune system to reduce inflammation, which can help improve PsA symptoms and reduce disease activity. JAK inhibitors are oral pills and TNF inhibitors are given as injections or intravenous infusions.
This study, which was published in the New England Journal of Medicine, involved 1,704 psoriatic arthritis patients who were randomly assigned to get upadacitinib, adalimumab, or a placebo. After 12 weeks, the number of patients who had an improvement of at least 20 percent (per ACR20 response criteria) was significantly greater in the treatment groups compared to placebo.
ACRR20 criteria is a way that doctors and researchers evaluate whether patients are experiencing improvement from a given treatment. It means at least a 20 percent improvement in tender and swollen joints and a 20 percent improvement in certain other criteria, such as patients' and doctors' assessments of how a patient is doing.
Patients on upadacitinib were given either a 15 mg or a 30 mg dose of the drug daily. About 71 percent of those taking the lower dose and nearly 79 percent taking the higher dose improved at least 20 percent from the beginning of the assessment, compared to 65 percent of participants taking a 40 mg injection of adalimumab every other week and 36 percent of those getting a placebo.
Researchers also looked at the data in other ways in order to evaluate the impact of upadacitinib on various psoriatic arthritis symptoms. This is important because psoriatic arthritis has a lot of different "domains" — areas of the body that are affected. Effective treatment for psoriatic arthritis needs to address not just skin symptoms and not just joint symptoms, but help to improve aspects of the disease across the board.
Minimal Disease Activity
For example, the study also looked at a measure called minimal disease activity, which evaluates a number of different issues that affect psoriatic arthritis (including joint pain, skin symptoms, enthesitis, and patient reports of pain, function, and how they feel overall). People taking upadacitinib had a significant improvement in minimal disease activity compared to those taking a placebo.
Radiographic Progression
Radiographic progression means that there is ongoing damage to joints that is visible on X-rays. While some PsA treatments — such as steroids or non-steroidal anti-inflammatory drugs (NSAIDs), like ibuprofen — don't stop radiographic progression, it's important to understand whether newer advanced therapies do (like biologics and JAK inhibitors).
This study found that both doses of upadacitinib, as well as adalimumab, helped stop radiographic progression relative to the placebo after 24 weeks.
Fatigue
Researchers also evaluated whether patients experienced an improvement in self-reported measures of fatigue, which is a debilitating problem for many people with PsA. Those on both doses of upadacitinib, as well as on adalimumab, saw a significant improvement in fatigue compared those on placebo.
Skin Clearance
And, of course, it's critical for PsA treatment to help improve psoriasis skin plaques. Researchers looked for a 75 percent improvement in skin clearance. They found that both upadacitinib doses comparably significantly helped patients, with roughly a 41 percent improvement compared to placebo.
The study was sponsored by AbbVie, which manufactures both upadacitinib and adalimumab. It will continue to follow patients for five years, though this report focuses on data from the first three to six months.
The safety profile of upadacitinib was generally similar to results reported previously in studies on rheumatoid arthritis. Adverse events, including serious infections and liver changes, were monitored for 24 weeks and found to be relatively common in all the groups. Patients in the placebo group, as expected, had the lowest risk of adverse events, yet nearly 60 percent of patients getting the placebo experienced one. The highest rate of adverse events (72 percent) occurred among those receiving 30 mg of upadacitinib.
Rinvoq is currently FDA-approved to treat rheumatoid arthritis (RA), and it will most likely gain approval from the agency for psoriatic arthritis as well, says CreakyJoints medical advisor Vinicius Domingues, MD. The application for PsA approval is currently under review. The FDA recently extended the review period for this indication by 90 days.
This extended timetable doesn't necessarily indicate a problem with Rinvoq specifically, Dr. Domingues explains. Rather, the FDA is taking time to weigh the pros and cons of this medication because of recent concerns that have come to light regarding JAK inhibitors as a medication class in general. Rinvoq already carries a black box warning about its potential to increase the risk of cancer, blood clots, and infections. Xeljanz, which is manufactured by Pfizer, also carries a black box warning about an increased risk of pulmonary embolism. Recent research on Xeljanz has linked it to a higher risk of cardiovascular events and cancer, leading to the FDA to warn patients and providers about these risks and state that it is continuing to evaluate the study results. Read more about this here.
"It's not really a Rinvoq issue; it's an issue with the whole class of JAK inhibitors," says Dr. Domingues.
While some extra prudence may indeed by warranted, Dr. Domingues says he would feel comfortable using JAK inhibitors for certain PsA patients if it is approved, noting that thousands of people have already used these drugs and that the FDA isn't asking for new safety studies on Rinvoq to be conducted.
Remember that finding the right treatment for your condition starts with talking to your health care provider. Together, you can discuss your symptoms and challenges living with your disease, your medical history, and any concerns you have about medication side effects.
As more treatment options become available for psoriatic arthritis, this kind of shared decision-making with your doctor becomes even more important.
AbbVie Inc. is a corporate sponsor of the Global Healthy Living Foundation, but this content is editorially independent and is not sponsored by AbbVie.
Track Your Medications with ArthritisPower.
Join CreakyJoints' patient-centered research registry and log your medications to track side effects and impact on disease activity. Learn more and sign up here.
Felson D, et al. A proposed revision to the ACR20: the hybrid measure of American College of Rheumatology response. Arthritis Care and Research. February 28, 2007. doi: https://doi.org/10.1002/art.22552.
Initial safety trial results find increased risk of serious heart-related problems and cancer with arthritis and ulcerative colitis medicine Xeljanz, Xeljanz XR (tofacitinib). U.S. Food and Drug Administration. February 4, 2021. https://www.fda.gov/drugs/drug-safety-and-availability/initial-safety-trial-results-find-increased-risk-serious-heart-related-problems-and-cancer-arthritis.
Interview with Vinicius Domingues, MD, CreakyJoints medical advisor
McInnes IB, et al. Trial of Upadacitinib and Adalimumab for Psoriatic Arthritis. The New England Journal of Medicine. April 1, 2021. doi: https://doi.org/10.1056/NEJMoa2022516.
Pfizer Announces FDA Approval of XELJANZ® (tofacitinib) and XELJANZ® XR for the Treatment of Active Psoriatic Arthritis. Pzifer. December 14, 2017. https://www.pfizer.com/news/press-release/press-release-detail/pfizer_announces_fda_approval_of_xeljanz_tofacitinib_and_xeljanz_xr_for_the_treatment_of_active_psoriatic_arthritis.
Stott R. FDA extends review period for expanded use of Rinvoq in PsA to assess risk-benefit. Healio. March 17, 2021. https://www.healio.com/news/rheumatology/20210317/fda-extends-review-period-for-expanded-use-of-rinvoq-in-psa-to-assess-riskbenefit.