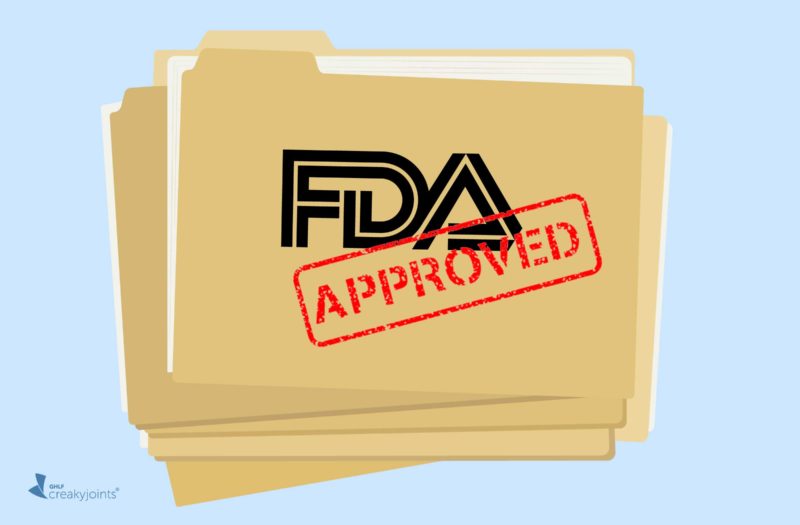 Psoriatic arthritis (PsA) may be treated with a wide variety of medications, from NSAIDs that focus on pain relief to disease-modifying drugs (such as methotrexate) and biologics aimed at actually slowing the progression of this inflammatory condition. While many of the biologics used for psoriatic arthritis block an immune system protein called tumor necrosis factor (TNF), PsA patients have in recent years gained access to a growing number of drugs that target types of interleukin, another inflammatory protein.
In 2016, the FDA approved secukinumab (Cosentyx), which targets IL-17A. In 2017, the agency approved ixekizumab (Taltz), which also blocks IL-17A.
Now the FDA has approved a different interleukin blocker, but this one targets IL-23 instead.
Already approved for psoriasis, guselkumab (Tremfya) is now the first IL-23 inhibitor to be FDA-approved for the treatment of psoriatic arthritis.
Another medication that targets both IL-23 and IL-12, ustekinumab (Stelara) has been approved to treat PsA (and some other inflammatory conditions) since 2013.
Tremfya, which is taken via subcutaneous injection, can be used alone or along with a traditional DMARD such as methotrexate. According to Janssen, the drug's manufacturer, FDA approval for psoriatic arthritis was granted after two phase 3 clinical trials demonstrated that patients with active PsA who used it were more likely to have improvements in disease activity compared to those who took a placebo.
"Any time that there is demonstrated efficacy, along with a good safety profile, of a new class of medicines for PsA, the results are important because of the need for patients to have multiple options of treatment as we want the best outcomes of treatment for our patients, especially those that have lost efficacy or had side effect issues with previously tried immunomodulatory medicines," Philip J. Mease, MD, director of rheumatology research at the Swedish Medical Center/Providence St. Joseph Health in Seattle, told Healio Rheumatology. Dr. Mease was the lead investigator for the trials on which the FDA approval was granted.
Whether or not Tremfya is more effective than other biologics for PsA is unclear.
One trial that compared it directly to Taltz found that patients using Taltz fared better — at least in terms of clearing skin plaques. People with PsA usually have joint pain and swelling as well as red patches that are associated with skin psoriasis.
Psoriatic arthritis has a wide range of manifestations that can make the condition challenging to successfully treat. These include joint pain and swelling, back pain, skin plaques, dactylitis (swelling of an entire digit; sometimes called sausage fingers), enthesitis (inflammation of the entheses, which is where tendons and ligaments attach to bone), nail lesions, and fatigue.
Doctors may recommend certain psoriatic arthritis treatments over others depending on which "domains" (another word for categorizing manifestations) are most problematic.
Talk to your rheumatologist if you're interested in learning more about whether Tremfya is a good fit for you and how it compares to other PsA treatments on the market.
Track Your Medications with ArthritisPower
Join CreakyJoints' patient-centered research registry and log your medications to track side effects and impact on disease activity. Learn more and sign up here.
Janssen Pharmaceuticals, which manufactures guselkumab (Tremfya), is a corporate sponsor of the Global Healthy Living Foundation.