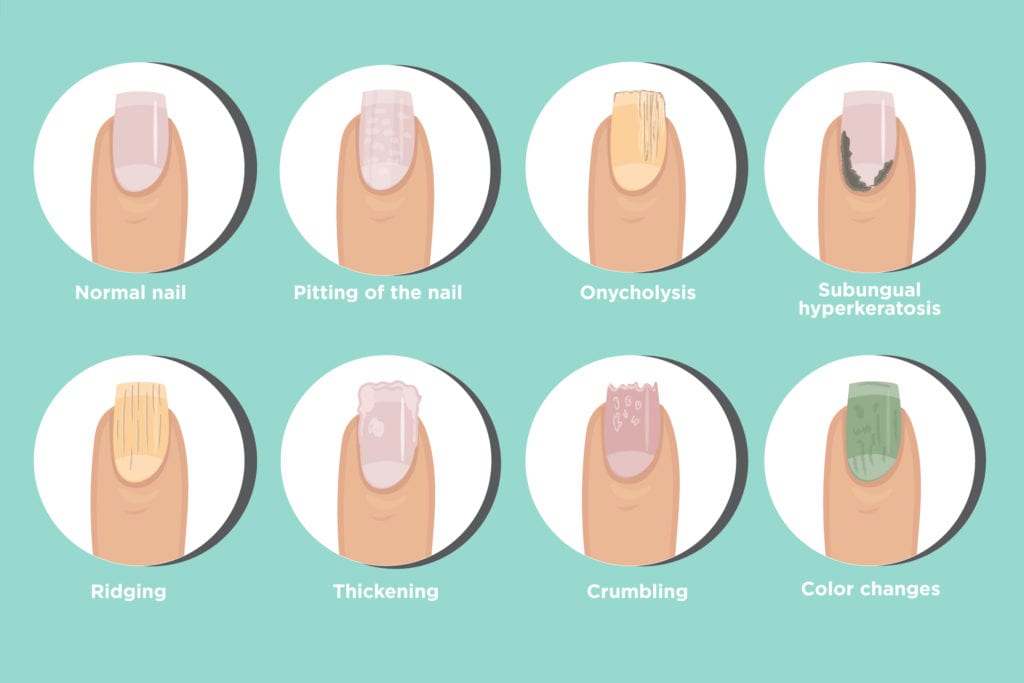 If you have psoriatic arthritis (PsA), chances are good that it's affected your nails. Not only is nail psoriasis an early sign of PsA, it's the most common symptom of the disease. Psoriatic arthritis is a type of inflammatory arthritis that occurs in some people with psoriasis, a condition that causes the overproduction of skin cells, which often results in dry red patches with thick silvery scales.
Up to nearly 90 percent of people with PsA have nail involvement. "Both fingernails and toenails can be affected, and it can affect one nail or all 20 nails," says Mona Gohara, MD, associate clinical professor of dermatology at Yale School of Medicine. But considering how distorted nails can become when you have psoriatic arthritis, even one affected nail can be one too many.
Symptoms of Psoriatic Arthritis on Your Nails
1. Pitting of the nail
These depressions on the nail are the most common symptom of PsA, occurring in more than two-thirds of people with the disease, according to the Psoriasis and Psoriatic Arthritis Alliance. They can be small and shallow or big and deep.
2. Onycholysis
This is the gradual (and, thankfully, painless) separation of a nail from the underlying nail bed. The pocket created can form a pathway for bacteria or fungi to infect the nail bed. About one-third of people with nail psoriasis develop a fungal infection.
3. Subungual (meaning underneath a finger or toenail) hyperkeratosis
The buildup of skin cells creates a flaky or chalky substance (doctors often refer to it as debris) that accumulates under the nail. It's more of an issue in toenails because the constant pressure from wearing shoes can become uncomfortable.
4. Ridging
Inflammation of the matrix, the area at the base of the nail where the cells that produce new nail growth are produced, can cause these grooves and ridges that run lengthwise and are known as Beau's lines. They usually occur on every fingernail or toenail.
5. Thickening
Skin and nails are made of the same protein, so the rapid, excess growth of skin cells can also cause nails to grow too quickly and/or too thickly.
6. Crumbling
Long-term inflammation of the nail matrix can lead to a crumbly appearance.
7. Color changes
White, yellow, or brown discoloration and/or reddish marks (aka splinter hemorrhages, which are caused by tiny burst blood vessels under the nails) are common among people with psoriatic arthritis.
The good news is that there are many treatments for nail psoriasis: The two mainstays are topical steroids and the vitamin D-based treatment calcipotriene. Treatments like biologics and retinoids — which work throughout the body — can also treat both your skin and nails.
The bad news is that treating nail psoriasis can be tough as, well, nails. The condition can be stubborn, so you may need to use more than one treatment. Nails also grow slowly, so even if a treatment works, it can take a while — up to a full year for fingernails, and two years for toenails, to grow out — before you'll see the full benefit. That can be a long time to wait when your nails look distorted.
But besides being patient, there's a lot you can do to help protect nails from damage and improve their appearance.
How to Care for Your Nails with Psoriatic Arthritis
1. Keep nails short
Damage or injury to the nails can cause or worsen nail psoriasis. Any sort of physical trauma can lead to what's called the Koebner phenomenon. This is when you get a flare where the skin or nail has been injured. Keeping nails short can minimize trauma from everyday tasks. It can also help prevent nails from lifting off of fingers and toes and discourage buildup under the nails.
2. Wear gloves when working with your hands
This includes housework, yard work, and home repairs. Any time you irritate your skin or nails, psoriasis can flare. When doing wet work like washing dishes, it's best to wear a cotton glove and then place a vinyl or nitrile (synthetic rubber) glove over it. According to the American Academy of Dermatology, latex gloves don't give your nails enough protection.​ Keeping nails dry can also make infections less likely.
3. Go au naturel
"'Fancy nails' like acrylic, gel, or artificial nails, are traumatic for nails," says Dr. Gohara. "They grind down your nails to apply them and use harsh chemicals to remove them, both of which can damage your nail." Don't create more damage than you need to.
4. Disguise nail damage safely
Nail polish and/or a nail hardener can be used to conceal pitting and other signs of psoriasis and help to protect nails, just check with your doctor first to be sure they're appropriate for your nails.
5. Leave cuticles alone
Cutting or pushing back cuticles can injure your skin or lead to an infection. Ditto biting or picking at your nails.
6. Resist cleaning under nails
Removing the buildup can loosen nails and increase your risk of getting an infection. With treatment, the buildup should gradually clear. In the meantime, soaking the affected nails in soapy warm water may be sufficient to remove the debris.
Audio Guide: Understanding Psoriatic Arthritis Symptoms
Learn more about the range of symptoms you can experience with psoriatic arthritis. For more audio guides and insights from PsA experts, check out the Psoriatic Arthritis Club podcast.
If you enjoyed reading this article, you'll love what our video has to offer.
Subscribe to CreakyJoints
Get the latest arthritis news in your inbox. Sign up for CreakyJoints and hear about the latest research updates and medical news that could affect you.