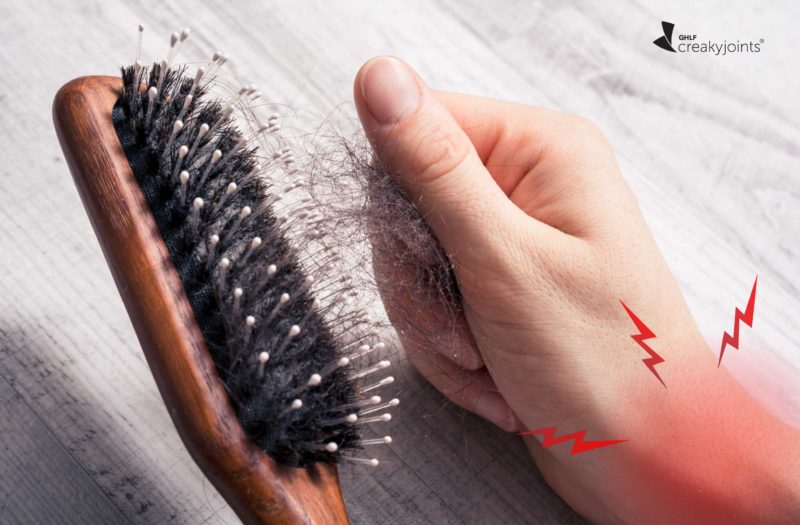 Hair loss can be a common symptom of lupus, as body-wide inflammation can impact the skin and hair follicles. Most of the time, people who get diagnosed with systemic lupus (the most common kind) find that their hair grows back once they start treatment, but that's not always the case.
According to a new study, lupus patients whose hair loss persists or comes back after abating might have higher levels of disease activity.
The study, which was published in the Journal of the American Academy of Dermatology, only included 32 patients, so it's too small to draw any widespread conclusions about what hair loss might mean for most people with lupus. Still, the researchers believe there's enough evidence to consider hair loss an "indicator of active disease."
In the study, researchers examined 32 lupus patients with different patterns of alopecia (the medical term for hair loss): 14 had mild alopecia; five had severe alopecia; nine had patchy alopecia; and four had "lupus hair," which refers to fragile/broken hair along the hairline. They analyzed hair samples and scalp biopsies from these patients and conducted the same analyses on an additional 10 participants who had lupus but no signs of alopecia.
Although they found some differences between the alopecia and non-alopecia groups, the biggest distinction was that disease activity was higher in people who had hair loss. The study authors used the SLEDAI-2K assessment score to measure disease activity and found that it was "significantly higher in patients with alopecia when compared to patients without alopecia."
They also noted that the samples from people who had hair loss often showed abnormalities in the small blood vessels as well as thin hair shafts. These characteristics and others suggest hair loss in lupus patients is "is indeed [lupus] specific and may involve a more complex mechanism than that of [telogen effluvium], which is a condition that occurs when hair follicles get pushed into a resting state.
Track Your Lupus Disease Activity
Join CreakyJoints' patient-centered research registry to track your symptoms, disease activity, and medications — and share with your doctor. Learn more and sign up here.
Keep Reading