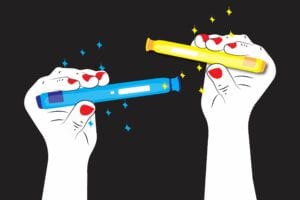 One of the most common questions doctors report being asked when they give the diagnosis of non-radiographic axial spondyloarthritis (nr-axSpA) is "Am I going to be disabled?" It's a logical question, since the hallmark of the disease, a type of chronic inflammatory arthritis that causes joint damage, is back pain that can wake you up in the middle of the night and cause morning stiffness that makes it hard to get out of bed and get moving.
Luckily, when he's asked the question, "I'm able to answer: no," says rheumatologist Paul Bird, an associate professor of the St. George & Sutherland Clinical School in Sydney, Australia. "With modern therapy, we can stop damage from occurring and allow people to live normal, functional lives."
It often takes people as many as eight years to get diagnosed with nr-axSpA, which primarily affects the "axial" joints — the spine, sacroiliac joints, chest, and hip bones. That's because, while the disease causes symptoms, there's no visible damage to the joints on X-rays — hence the term "non-radiographic."
"It can be a long and isolating road to diagnosis for many people, but the good news is that getting a correct diagnosis allows patients to partner with their rheumatologist to find ways of addressing this disease," says Hillary Norton, MD, a rheumatologist in private practice in Santa Fe, New Mexico, who herself has axial spondyloarthritis (axSpA). AxSpA is an umbrella term for ankylosing spondylitis (AS), which is when changes to the vertebrae and joints are clearly noticeable on an X-ray, and nr-axSpA, which is essentially the same disease but without joint damage being visible on X-rays.
Treatment for nr-axSpA has traditionally focused on addressing pain rather than stopping disease progression with the use of physical therapy and nonsteroidal anti-inflammatory drugs (NSAIDs). Recently, however, the FDA approved a drug that actually helps inhibit an inflammatory molecule, providing those living with nr-axSpA access to a new class of medication for the first time. There are also drugs approved for AS that may also help treat nr-axSpA, and some doctors may even prescribe them for patients with nr-axSpA.
The upshot: "We now have a good treatment option and there are more to come," says Dr. Norton. "The future of nr-axSpA treatment looks bright."
Here's the lowdown on how doctors currently treat nr-axSpA.
Nonsteroidal anti-inflammatory drugs (NSAIDs)
"NSAIDs are the first-line therapy for non-radiographic axial spondyloarthritis and they work very well in early disease," says Dr. Norton.
NSAIDs work to reduce inflammation and relieve pain. Which NSAID works best varies among people, and in the most recent clinical treatment guidelines for AS and nr-axSpA, released in 2019 by the American College of Rheumatology, no particular NSAID was recommended as the preferred choice. If one NSAID isn't effective, your doctor might try another. Though NSAIDs may start to work within a few hours, it may take a few weeks before most benefits are achieved. "NSAIDs may be prescribed to be taken on a regular basis in early active disease, but once the disease is better controlled it will likely be recommended that they're taken on an as-needed basis," says Dr. Norton.
According to the Assessment in Ankylosing Spondylitis (ASAS) response criteria, which assesses improvement in pain, function, and inflammation, 35 percent of patients experience a 40 percent improvement when taking NSAIDs. While this demonstrates that a substantial minority have a good response to these medications, there remains a large group who likely need additional therapy, note the authors of a 2019 review article on nr-axSpA therapy.
Even though some NSAIDs are available over the counter, they can have serious side effects, especially when taken in high doses or for a long period of time. These include gastrointestinal issues, such as ulcers and bleeding; high blood pressure; kidney and liver damage; and an increased risk of heart attack and stroke. It's important to follow your doctor's directions for taking NSAIDs and make sure you discuss symptoms of side effects to be aware of.
Tumor Necrosis Factor (TNF) Inhibitors
While NSAIDs are initially very helpful for many patients, they often no longer provide enough relief as the disease progresses. "By the time patients see us in rheumatology, they're generally ready to advance their therapy," explains Dr. Norton. (Here's what to expect at a rheumatologist visit for an evaluation of axSpA symptoms.)
If someone continues to have active disease despite taking NSAIDs, doctors often recommend taking a medication that inhibits tumor necrosis factor (TNF), an inflammatory molecule that's implicated in the pathogenesis of AS. "What defines active disease is a discussion with each patient," says Dr. Norton. The technical definition of active disease is disease-causing symptoms at an unacceptably bothersome level to the patient and judged by the examining clinician to be due to inflammation.
According to Dr. Norton, "if someone has pain that's interfering with sleep or daily activities, I consider that it's time to consider a TNF inhibitor."
TNF inhibitors are a group of biologic medications that work by modulating the immune response. Until recently, the FDA hadn't approved TNF inhibitors or other biologics specifically for nr-axSpA, though they are approved for ankylosing spondylitis. That changed in March 2019, with the approval of certolizumab (Cimzia) for non-radiographic axial spondyloarthritis. The drug, which was first FDA-approved in 2008 for moderate to severe Crohn's disease, is also approved for active AS, moderate to severe plaque psoriasis, moderate moderate to severe rheumatoid arthritis, and psoriatic arthritis.
In studies, Cimzia yielded marked improvement in disease activity in nearly half of the treatment group within 52 weeks, compared to only 7 percent of those given a placebo. People on Cimzia experienced 33 percent less back pain than placebo-treated patients after three months. So-called "background drugs" like NSAIDs were continued along with taking Cimzia.
This drug came to be approved for nr-axSpA after researchers studied the basic pathophysiology of the disease. "What we found was that in the areas where the inflammation affects the patient, the tumor necrosis factor is expressed. It's kind of released by the immune system cells," explains Atul A. Deodhar, MD, professor of medicine and the medical director of rheumatology clinics at Oregon Health & Sciences University in Portland, Oregon. "Blocking the TNF is very scientific because that's one of the reasons why these patients are getting the inflammation, pain, swelling, stiffness, and fatigue."
Side effects of TNF inhibitors include injection site reactions (rash with burning or itching) and an increased risk of many different types of infections, including tuberculosis and fungal infections. Long-term use of TNF inhibitors may increase the risk of cancers such as lymphoma and skin cancer.
TNF inhibitors have transformed the treatment paradigm in nr-axSpa, according to the researchers in the previously mentioned review article. "Prior to their initiation many patients relied on NSAIDs only, which were not effective in all patients and led to complications as a result of chronic use," they wrote.
According to Dr. Norton, NSAIDs were the only option for nr-axSpA unless there was a lot of peripheral joint arthritis (for example, in the knees) in which case sulfasalazine (Azulfidine), a type of sulfa drug that lowers inflammation, or glucocorticoid joint injections could be used. "These can still be used, but the recommendation now is to proceed to Cimzia if the disease remains active with NSAIDs," she says.
Cimzia is administered by injection under the skin every two to four weeks. Be sure to follow your doctor's instructions and continue taking the medication even if you're feeling better. "It's important that patients are compliant with the medication so they get the best result," says Dr. Bird.
Cimzia is the only TNF inhibitor currently approved in the U.S. for nr-axSpA, but others are approved in Europe. "All of the TNF inhibitors are unique molecules so they can sometimes have different effects on people," says Dr. Norton. Because other anti-TNF drugs are approved to treat ankylosing spondylitis, they may also help treat non-radiographic axial spondyloarthritis and some doctors may prescribe them for patients with nr-axSpA.
It's anticipated that there will be approvals of other TNF inhibitors, as well as IL-17 inhibitors, in the U.S. in the future.
Interleukin 17 (IL-17) Inhibitors
IL-17 is a pro-inflammatory molecule that's high in the blood serum of patients with axial spondyloarthritis and has been found in the tissue samples of people with the disease. There are two IL-17 inhibitors FDA-approved to treat ankylosing spondylitis, ixekizumab (Taltz) and secukinumab (Cosentyx).
Both are now sometimes also used in the treatment of non-radiographic axial spondyloarthritis. In a recent phase-III clinical trial, Cosentyx showed a significant and clinically meaning reduction in the activity of nr-axSpA versus placebo. The drugs, which are administered by injection, "have been found to be very effective," says Dr. Deodhar.
Side effects of IL-17 inhibitors include injection site reactions and an increased risk of infections, including upper respiratory infections and tuberculosis. Rare cases of such as Crohn's disease or ulcerative colitis, have been seen in some patients.
Exercise
Exercise is considered a cornerstone of nr-axSpA treatment. "AxSpA patients generally feel much better with exercise, and it's part of a healthy lifestyle that can improve quality of life," says Dr. Norton. In fact, feeling better with movement and worse with rest is a hallmark symptom of inflammatory back pain.
Besides increasing mobility and helping to maintain flexibility and normal posture, research on people with axSpA shows that exercise has a significant beneficial effect on the fatigue and emotional distresses that often accompany the disease. It also helps people to better manage their daily activities.
Though this non-pharmacologic approach should be part of the treatment program for everyone with nr-axSpA, even those who are also on pharmacologic treatment, there's no one specific type of exercise that suits every patient.
"Our guidelines recommend unsupervised back exercises, but that can look different for everyone," says Dr. Norton. Many people find swimming helpful since it's low impact, but others do just fine with impact exercises. "Stretching exercises are often given, but we encourage patients to maintain their favorite aerobic exercises," says Dr. Bird.
For some people, a course of physical therapy may be helpful — ask your doctor for a referral. The important thing is to stay active and find an exercise that's enjoyable and helps improve your symptoms.
Opioids: Not to Be Used in Non-Radiographic Axial Spondyloarthritis
What should not be used to treat nr-axSpA is opioids. In addition to the many known risk factors, such as addiction and side effects, with their long-term use, "opioids don't really take care of the inflammation, and this is an inflammatory disease," explains Dr. Deodhar.
Taking opioids for nr-axSpA is like masking the pain. "We try to avoid the use of opioids in the treatment of axSpA," says Dr. Norton. "These don't address the underlying cause of the disease, and when we do treat the disease appropriately with approved medications, this treats pain as well as the underlying cause of the disease."
This educational resource was made possible with support from UCB, a global biopharmaceutical company focused on neurology and immunology.
Track Your Medications with ArthritisPower
Join CreakyJoints' patient-centered research registry and log your medications to track side effects and impact on disease activity. Learn more and sign up here.
Keep Reading