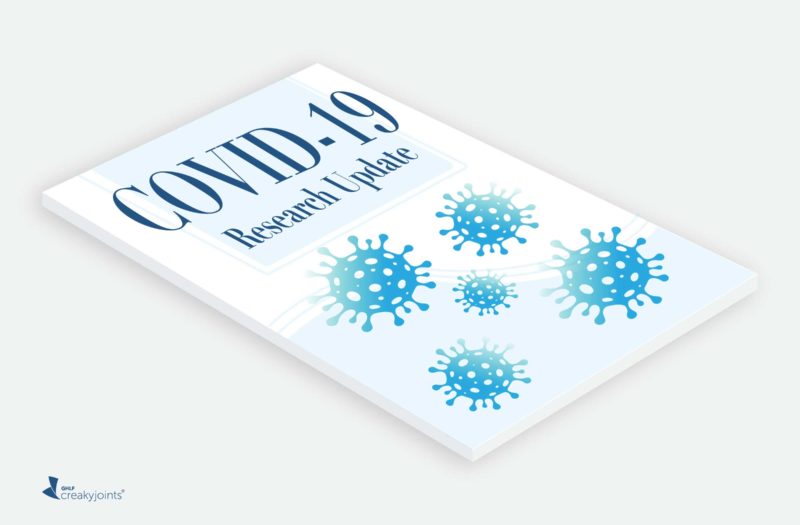 Rheumatology drugs continue to draw attention for their potential in treating severe COVID-19, but the findings are anything but clear-cut. Over nearly a year since the pandemic began, medications commonly used to treat rheumatic conditions have been considered for their role in targeting various aspects of COVID-19's effects on the body.
First, there was the antimalarial hydroxychloroquine (which has since been found ineffective as a coronavirus treatment). On the other hand, the steroid dexamethasone *has* been shown to help reduce COVID-19 deaths and has become standard of care. The JAK inhibitor baricitinib (Olumiant) received emergency use authorization to treat severe COVID-19 along with remdesivir. Studies on other treatments (like the anti-TNF biologics commonly used for conditions like inflammatory arthritis and inflammatory bowel disease) and the gout drug colchicine are currently underway.
One class of medications that continues to make the spotlight as a potential treatment for severe cases of COVID-19 is known as interleukin-6 (IL-6) inhibitors. Two are FDA-approved to treat rheumatoid arthritis and some other rheumatic conditions: tocilizumab (Actemra) and sarilumab (Kevzara).
But a number of studies have issued conflicting results over the past few months, leaving researchers to conclude that, well, more research is likely needed before these drugs become widely used.
Tocilizumab and sarilumab are disease-modifying anti-rheumatic drugs (DMARDs) that target an immune system protein called interleukin-6 (IL-6), which plays a role in increasing inflammation in the body. Some of the damage from COVID-19 may come from an overblown immune response — the so-called "cytokine storm."
Both tocilizumab and sarilumab help dial down IL-6, which researchers hypothesized may help quell inflammation in the body's response to COVID-19.
In a recent study from an international team of researchers that was published on a preprint server earlier this month, about 800 patients with severe cases of coronavirus were randomly assigned to receive tocilizumab, sarilumab, or standard care. Most were also taking corticosteroids and about a third were also on the antiviral medication remdesivir. All of the patients had recently been admitted to the intensive care unit and all needed organ-support machines. (Being published on a preprint server means the study has not yet gone through peer review.)
The hypothesis panned out: Patents taking tocilizumab or sarilumab had 10 and 11 days, respectively, without the need for organ support while those in the control group had none. Meanwhile, fewer people taking the IL-6 inhibitors died (22 percent in the sarilumab group and 28 percent in the tocilizumab arm) than did individuals not taking either drug (36 percent).
Patients taking both of the IL-6 inhibitors along with corticosteroids did even better yet, leading the authors to suggest the "benefit of using both IL-6 receptor antagonists and corticosteroids together in this critically ill population."
In Great Britain, health authorities have issued an alert asking doctors to consider using the medications when treating COVID-19 patients.
However, in the U.S., IL-6 inhibitors do not have emergency use authorization for COVID-19, which means they are not recommended for use outside of a clinical trial.
Making Sense of Mixed Results
The new findings need to be taken in the context of past research on COVID-19 and IL-6 inhibitors, which has been mixed.
Another study, which was just published in the British medical journal BMJ, found that tocilizumab was no better than standard treatments in a small group of hospitalized COVID-19 patients in Brazil. As Reuters reported, researchers questioned the validity of the findings based on the small number of participants in the study (129).
A study published last month in the New England Journal of Medicine found that "in hospitalized patients with COVID-19 pneumonia who were not receiving mechanical ventilation, [IL-6 inhibitor] tocilizumab reduced the likelihood of progression to the composite outcome of mechanical ventilation or death, but it did not improve survival."
Results of earlier studies investigating the effect of tocilizumab on patients with COVID-19 were also mixed. In a study published in JAMA Internal Medicine a team of U.S. researchers analyzed data from more than nearly 4,000 patients from different hospitals around the country. They found that patients treated with tocilizumab within two days of being admitted to intensive care had a lower risk of dying over the next month than a control group. Two other studies — one from France and one from Italy — looked at patients with COVID-19-related pneumonia. One found some benefit from tocilizumab while the other did not.
Why are the findings among these studies so inconsistent? One reason is that they are all looking at slightly different populations and timeframes. Some included patients in the ICU, some did not. Different groups received tocilizumab or sarilumab at different points of time in the course of their illness.
Overall, it means that researchers just don't know yet whether or when tocilizumab may be beneficial, and for which kinds of patients.
What This Means for Rheumatic Disease Patients
With the jury still out on the role of IL-6 inhibitors for treating COVID-19, nothing really changes for rheumatic disease patients who take these medications regularly to control their inflammatory autoimmune conditions.
If you're a patient who takes an IL-6 inhibitor (such as Actemra or Kevzara) and you happen to get sick with COVID-19, it's important to speak with your rheumatologist for advice about whether to keep taking or stop taking your medication.
In its guidance for rheumatic disease patients who become infected with COVID-19, the American College of Rheumatology says that "in select circumstances, as part of a shared decision‐making process, IL‐6 receptor inhibitors may be continued."
In comparison, the ACR suggests that other types of biologics and disease-modifying drugs should be temporarily stopped in patients with COVID-19 until they are symptom-free.
This does not mean that people who take IL-6 inhibitors like Actemra or Kevzara are more protected from COVID-19 infection. It is important to keep following public health guidance with regard to wearing face masks, practicing social distancing and avoiding large groups, and frequent hand washing.
Get Free Coronavirus Support for Chronic Illness Patients

Join the Global Healthy Living Foundation's free COVID-19 Support Program for chronic illness patients and their families. We will be providing updated information, community support, and other resources tailored specifically to your health and safety. Join now.
COVID-19 Clinical Guidance for Adult Patients with Rheumatic Diseases. American College of Rheumatology. December 5, 2020. https://www.rheumatology.org/Portals/0/Files/ACR-COVID-19-Clinical-Guidance-Summary-Patients-with-Rheumatic-Diseases.pdf.
Gordon AC, et al. Interleukin-6 Receptor Antagonists in Critically Ill Patients with Covid-19–Preliminary report. MedRxiv. January 7, 2021. https://www.medrxiv.org/content/10.1101/2021.01.07.21249390v1.full.pdf.
Gupta S, et al. Association Between Early Treatment With Tocilizumab and Mortality Among Critically Ill Patients With COVID-19. JAMA Internal Medicine. October 20, 2020. doi: https://doi.org/10.1001/jamainternmed.2020.6252.
Hermine O, et al. Effect of Tocilizumab vs Usual Care in Adults Hospitalized With COVID-19 and Moderate or Severe PneumoniaA Randomized Clinical Trial. JAMA Internal Medicine. October 20, 2020. doi: https://doi.org/10.1001/jamainternmed.2020.6820.
Interim Position Statement: Interleukin-6 inhibitors (tocilizumab or sarilumab) for patients admitted to ICU with COVID-19 pneumonia (adults). UK National Health Service. January 8, 2021. https://www.cas.mhra.gov.uk/ViewandAcknowledgment/ViewAlert.aspx?AlertID=103134.
Interleukin-6 Inhibitors. COVID-19 Treatment Guidelines. U.S. National Institutes of Health. https://www.covid19treatmentguidelines.nih.gov/immune-based-therapy/immunomodulators/interleukin-6-inhibitors.
Kelland K. Conflicting COVID-19 results for Roche arthritis drug show more trials needed. Reuters. January 20, 2021. https://www.reuters.com/article/us-health-coronavirus-tocilizumab/conflicting-covid-19-results-for-roche-arthritis-drug-show-more-trials-needed-idUSKBN29P2XI.
Salama C, et al. Tocilizumab in Patients Hospitalized with Covid-19 Pneumonia. The New England Journal of Medicine. December 17, 2020. doi: https://doi.org/10.1056/NEJMoa2030340.
Salvarini C, et al. Effect of Tocilizumab vs Standard Care on Clinical Worsening in Patients Hospitalized With COVID-19 Pneumonia: A Randomized Clinical Trial. JAMA Internal Medicine. October 20, 2020. doi: https://doi.org/10.1001/jamainternmed.2020.6615.
Veiga VC, et al. Effect of tocilizumab on clinical outcomes at 15 days in patients with severe or critical coronavirus disease 2019: randomised controlled trial. BMJ. January 20, 2021. Doi: https://doi.org/10.1136/bmj.n84.