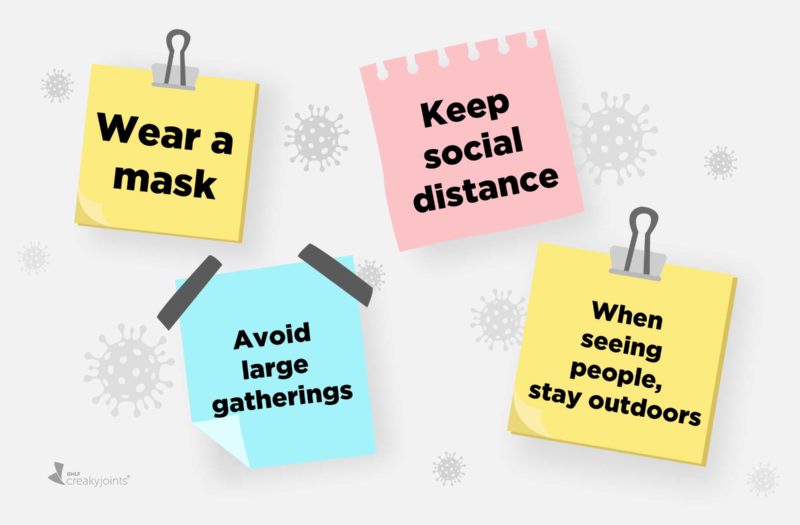 When the COVID-19 pandemic began this spring, everyone scrambled to learn more about how the virus spreads. Although we still don't have all the answers, recent research has informed and shaped the advice infectious disease and public health experts give for preventing transmission — and shed light on why it's been so difficult to control the pandemic.
For instance, we now know that one of the highest-risk opportunities for transmission is spending time with others in indoor spaces with poor ventilation (particularly when people aren't masked or socially distanced).
Although it's still advised to continue practicing hand hygiene and disinfecting commonly touched surfaces, we also know that contracting COVID-19 through touching surfaces is a much lower risk than respiratory transmission (breathing in coronavirus germs floating in the air).
Experts also now recognize the magnitude in which people who are asymptomatic (infected with no symptoms at all) and presymptomatic (infected but not showing symptoms yet) can spread the virus.
"The most shocking thing to me that we've learned since March is the fact that asymptomatic transmission is as relevant as it is," says MarkAlain Déry, DO, Medical Director of Infectious Diseases for Access Health Louisiana. "Up to 40 percent of cases are asymptomatic. It really drives the importance of universal masking, because we don't know who is transmitting."
That is a sentiment shared by David Aronoff, MD, Director of the Division of Infectious Diseases at Vanderbilt University School of Medicine in Nashville, Tennessee.
"It is really quite surprising to have a virus that can put people in the intensive care unit or lead to death, and yet be capable of infecting many more people who are mildly symptomatic or not symptomatic at all," says Dr. Aronoff. "The way this virus is transmitted has not changed at all throughout this pandemic. But now we have a deeper appreciation for the importance of transmission from people who feel well and do not know they're infected."
Precautions to Prevent Infection
If you live with chronic illnesses that can make you more susceptible to poor outcomes from COVID-19, you've likely already been taking precautions to protect yourself. Of course, you already know the general guidance:
Maintain a social distance of six feet or more from people outside of your household whenever possible.
Wear face coverings when out in public and when you can't be socially distant.
Wash or sanitize your hands frequently and disinfect commonly touched surfaces.
Avoid large groups or situations when it will be hard to be socially distant.
When spending time with others, being outdoors is safer than indoors.
But with record numbers of COVID-19 cases overtaking America and many parts of the globe — and with experts saying things will continue to get worse before they get better — we know many people in the CreakyJoints and Global Healthy Living Foundation communities are looking to protect themselves and their loved ones as much as possible.
Here are additional steps you can take to avoid contracting COVID-19 right now, based on the most recent guidance and research.
1. Stay vigilant about *properly* wearing your face mask
Face masks can reduce the emission of respiratory droplets carrying the coronavirus, which is particularly relevant for infected wearers who are asymptomatic or presymptomatic and may be unaware of their infectiousness to others, per a scientific bulletin from the U.S. Centers for Disease Control & Prevention (CDC). These individuals are believed to account for more than 50 percent of COVID-19 transmissions.
And although for many months we knew that wearing a mask could protect others, experts now say that it has a benefit for the wearer as well. In fact, the CDC recently updated its guidance to note that "masks also help reduce inhalation of these droplets by the wearer."
In a September 2020 study published in the journal Emerging Infectious Diseases, individuals in Thailand who reported always having worn a mask during high-risk exposures were more than 70 percent less likely to get infected than those not wearing masks under the same circumstances. Among the more than 1,000 persons interviewed as part of contract-tracing, those who always wore masks were also more likely to practice social distancing.
However, you have to wear your mask correctly for it to be effective.
"One thing that people can do above and beyond to prevent COVID-19 is to make sure you wear your mask properly," says Nicole Harkin, MD, FACC, a board-certified cardiologist and clinical lipidologist, and the founder of Whole Heart Cardiology in San Francisco. "Make sure it covers both the nose and the mouth and is not below your nose or just over your chin."
The CDC also recommends washing your hands before putting on your mask, making sure it fits snugly against the sides of your face, and avoid touching the mask while you're wearing it. (If you do, wash your hands or use hand sanitizer to disinfect.)
2. Choose the right type of face mask
Certain masks may protect you more from COVID-19 than others — while some may not help much at all.
"The masks that have valves on them are not good, so I would not be around people who have those on," says Dr. Déry. "That's like not wearing a mask at all, because those valves allow you to breathe in and out easier."
The material your mask is made of and how it fits makes a difference, too. "The most effective cloth masks are typically cotton, two to three layers, and a tighter weave," says Dr. Harkin.
In fact, a September 2020 study published in the journal Science Advances analyzed the efficacy of 14 different types of masks by asking participants to repeat a phrase into a box with a lens, laser, and phone camera to track particles released from their mouths.
"We compared a variety of commonly available mask types and observed that some mask types approach the performance of standard surgical masks, while some mask alternatives, such as neck gaiters or bandanas, offer very little protection," note the researchers.
After testing each mask 10 times, the researchers found that a fitted N95 mask (no valve), a three-layer surgical mask, a cotton-polypropylene-cotton mask, 2-layer polypropylene apron mask, and a 2-layer cotton pleated-style mask were the most effective at containing particles.
That said, the CDC advises against using masks meant for health care workers (like surgical masks and N95 respirators) since these are critical supplies.
The least effective masks in the study were a knitted mask, double-layer bandana, and a gaiter-style neck fleece.
3. Consider a face shield for additional protection
It's possible that pairing a face shield with your mask could offer extra protection against infected respiratory droplets.
This may be something to consider when you're in a higher-risk situation than usual, such when you'll be in close contact with others for a long period of time (say, an airline flight).
"We don't know for sure how often the disease is transmitted by the virus getting into our eyes, but we think it's possible," says Dr. Aronoff. "For health care workers, we do recommend that they wear eye protection in addition to masks over their nose and mouth. That is one low-risk way you can go the extra mile to prevent yourself from being infected."
There are several comfortable face shields on the market for low prices, and they may offer more protection than simple glasses or goggles that don't wrap around the eyes.
"While face shields are not substitutes for wearing cloth face coverings, the two together are likely to provide more protection to the person wearing them than just a face mask or face shield separately," says Dr. Aronoff.
In a July interview with ABC News, Anthony Fauci, MD, Director of the National Institute of Allergy and Infectious Diseases (NIAID), noted that eye protection is "not universally recommended, but if you really want to be complete, you should probably use it if you can." That's because your eyes contain mucosal surfaces — moist tissues that are susceptible to viruses — just like your mouth and nose, he added.
4. Open your windows for ventilation
Even if you're staying at home yourself, if you live with someone who is leaving and returning — say, a child going to school or a partner going to work — it may be beneficial to open your windows if possible.
It's also a good idea to leave windows open when someone who lives outside your household is in your home — say, a repairperson or contractor doing work around the house.
We now know that being in a poorly ventilated space indoors, especially around large groups of people who are speaking for long periods of time, carries the highest risk of COVID-19 transmission.
Better ventilation of spaces significantly reduces the airborne time of respiratory droplets that are produced during speaking or coughing. These respiratory droplets have been shown to contain viral particles that remain infectious in aerosols (tiny droplets suspended in the air) for three hours, according to a May 2020 study published in The Lancet Respiratory Medicine.
"Ventilation is so important, so opening windows at home can be helpful," says Dr. Déry. "Also make sure your loved one who is leaving the house is really good with masking."
5. Get stricter about avoiding non-essential activities
Some U.S. cities and states (as well as other countries) have started implementing more restrictions on reopened businesses, activities, and social gatherings — and more are likely to follow. Keep in mind that the United States is experiencing more recorded daily new COVID-19 cases now than it did in the spring or summer, during the first and second waves of the pandemic. What's more, experts expect cases to keep rising as more people move inside during the colder winter months.
This makes staying home as much as possible more important now.
"Continue to limit going to businesses unless it's really necessary, like getting food from a grocery store or going to the pharmacy," says Dr. Aronoff. "Now is really an important time to limit leisure business activity if at all possible."
If you want to support your local businesses this holiday season, check to see if they have gift card options available for use at a later date. You can also recommend local restaurant delivery menus on social media, give a donation, or purchase virtual services (like an online Spanish class or virtual yoga class) to support your favorite businesses. Or see if local businesses would let you shop by phone and do curbside pickup or ship items directly to a loved one for you.
6. Go virtual for the holidays
Wondering if you should see family or friends for the holidays this year? It's not an easy answer, but it's the simplest: You'll protect yourself and others most this holiday season if you don't gather in person with those outside of your household.
"As the virus is spreading uncontrollably throughout the country, I would strongly, strongly recommend avoiding having family over for Thanksgiving, Hanukkah, Christmas, New Year's, and what-have-you," says Dr. Déry. "It breaks my heart to say it, because I know there are people who have not left their homes since March, and I can't imagine the loneliness they are experiencing. But this is not the time to gather for the holidays."
That may mean connecting with your loved ones over video platforms or phone calls. You can make a virtual holiday more special by still sending hand-written notes to your loved ones to enjoy throughout the holiday season, or by asking everyone to bring something to share during your virtual gathering. For instance, perhaps your nephew plays the flute or your sister shows off her newly knitted blanket.
"Connect virtually, spend time together online, and share things that bring joy," says Manisha Mittal, MD, Rheumatology Director at St. Agnes Medical Center and Co-chair of the Clinical Preceptorship Program at California Health Sciences University.
If you do decide to gather with people outside your immediate household, there are some things you can do to make such gatherings safer.
Try to gather with those from one other household rather than multiple households. (Some states have already put limits on the number of people who can gather in private settings, such as 10 or fewer.)
Eat outside.
Stay at least six feet apart from one another.
Make sure everyone keeps their masks on except for when eating.
Serve single portions so nobody needs to share from dishes.
Avoid heading to the supermarket during busy times.
"All of those things are reasonable ideas, and limiting interactions with people outside of your own tight circle or household is really important," says Dr. Aronoff. "If groceries can be delivered or food can be picked up, that's helpful."
7. Avoid loud places
Even if you go to a business that is limiting its capacity and asking patrons to practice social distancing, loud background music or noise from tools and equipment (say, hair dryers at a salon) can indirectly pose a risk for transmission.
"If the atmosphere is loud at all, people may need to talk louder or lean toward each other to hear, which is not ideal," says Dr. Aronoff.
One study published in the Proceedings of the National Academy of Sciences found that the size and quantity of potentially infectious respiratory droplets increase with loudness of speaking. The droplets can float in the air for eight to 14 minutes, and could therefore be inhaled by others and trigger new COVID-19 cases, note the researchers.
Avoiding places where people need to speak loudly could reduce your risk of contracting COVID-19.
"Every route of viral transmission would go down if we talked less, or talked less loudly, in public spaces," Jose-Luis Jimenez, a professor of chemistry at the University of Colorado at Boulder who studies disease transmission, told The Atlantic. "People need to understand that this virus is in the air, and that they breathe out 10 times more virus when they are shouting or speaking loudly."
8. Maintain your overall health
While you're doing everything you can to avoid contracting COVID-19, make sure you're not neglecting your overall health. This can help you avoid hospital, emergency room, or pharmacy visits that may require you to spend time away from the safety of your own home, and also lower the risk of poor outcomes from COVID-19.
"Unless you have a contraindication, everyone should be getting the flu shot this year," says Dr. Harkin. "There is certainly concern that influenza and COVID-19 together can perpetuate the harm of one alone, so it's particularly important for those with chronic diseases to get their flu shot. At the very least, if you do happen to get the flu but you have the flu shot, it gives you a better chance to stay out of the hospital when COVID-19 is running rampant."
This is also a good opportunity to check in with your doctor to make sure your underlying conditions are properly managed.
"It's important for people to remember that common medical conditions can be associated with worse outcomes from COVID-19," says Dr. Aronoff. "I really urge people who have medical conditions to make sure that they and their health care professionals feel as if their management is optimal. Being as healthy as we can be at baseline helps to stack the cards in our favor, so that if we get infected with the SARS-CoV-2 virus, we will be able to survive it and do well."
For example, while disease-modifying medications for inflammatory conditions (such as biologics) have not been associated with COVID-19 complications, doctors caution that have untreated disease (say, rheumatoid arthritis that is flaring) could make you more prone to infections of all kinds.
Should you see your doctor in person or via virtual telehealth visits? That decision may come down to such factors as the levels of COVID-19 in your community as well as your specific health issues.
But keep in mind that doctor's offices are well-practiced at keeping their staff and patients safe and would not ask you to come in person if it was not safe for you to do so.
Want to learn more about how to have an optimal telehealth visit with your rheumatologist? Check out our new site erheum.org for personalized tips and advice.
9. Stay vigilant despite pandemic fatigue
We are at the unfortunate intersection of experiencing record surges in new daily COVID-19 cases while alsofeeling pandemic fatigue. If you've been turning down invitations from friends and family, forgoing your favorite activities, or have barely left your home since March, it's normal to feel mentally and physically exhausted by it all.
 "Pandemic fatigue is something very vital to consider, because 2020 has been completely a change in lifestyle for most of us," says Dr. Mittal. "It's very stressful for many to not be able to connect with family, and the pandemic fatigue is very real."
Dr. Mittal encourages her patients to continue their hobbies and stress-relief practices to help reduce some of the fatigue and stress that comes with the pandemic.
"We can use this time to reconnect with our own selves, spend more time practicing meditation, and do activities that bring about calm and peace," says Dr. Mittal.
You might also find it helpful to cut back on things that haven't been shown to reduce risk of COVID-19 transmission — and focus on those that are backed by research.
"Although we should continue to wash and sanitize our hands, we can hold off on doing things like wearing gloves everywhere and sanitizing groceries and every package that arrives on our doorstep, since we've seen transmission from inanimate objects is pretty low-risk," says Dr. Harkin.
"Pandemic fatigue is setting in, so if you're hyper-vigilant about everything all of the time, then that can certainly wear on people," she continues. "I do worry about people's mental health, because we're entering a marathon instead of a sprint."
This may give you more mental energy to follow the precautions that truly make a difference, like always wearing a mask around others outside of your household, practicing social distancing, washing and sanitizing your hands, avoiding large groups, opting for outdoor settings over indoor settings when possible, and taking the additional precautions noted above.
"As a physician, it's incredibly heartbreaking to see how devastating this pandemic is to people's mental health and to our sense of normalcy," says Dr. Aronoff.
That said, COVID-19 is not very forgiving, he adds. It doesn't know of pandemic fatigue.
"We really need to continue to take this as a very serious threat," says Dr. Aronoff. "In the United States, there have been over a quarter million people who won't see tomorrow because of this virus. Now is not the time to let pandemic fatigue take over, but rather to continue to adjust our way of life until vaccines come or disease activity quiets down a lot."
Get Free Coronavirus Support for Chronic Illness Patients

Join the Global Healthy Living Foundation's free COVID-19 Support Program for chronic illness patients and their families. We will be providing updated information, community support, and other resources tailored specifically to your health and safety. Join now.
Doung-ngern P, et al. Case-Control Study of Use of Personal Protective Measures and Risk for SARS-CoV 2 Infection, Thailand. Emerging Infectious Diseases. September 14, 2020. doi: https://dx.doi.org/10.3201/eid2611.203003.
Dr. Jennifer Ashton and Dr. Anthony Fauci Discuss COVID-19. ABC News Live. Facebook. July 2020. https://www.facebook.com/watch/live/?v=214025723313870&ref=watch_permalink.
Fischer EP, et al. Low-cost measurement of face mask efficacy for filtering expelled droplets during speech. Science Advances. September 2, 2020. doi: https://dx.doi.org/10.1126/sciadv.abd3083.
How to Wear Masks. Coronavirus Disease 2019 (COVID-19). U.S. Centers for Disease Control and Prevention. September 3, 2020. https://www.cdc.gov/coronavirus/2019-ncov/prevent-getting-sick/how-to-wear-cloth-face-coverings.html.
Interview with David Aronoff, MD, Director of the Division of Infectious Diseases at Vanderbilt University School of Medicine in Nashville, Tennessee
Interview with Manisha Mittal, MD, Rheumatology Director at St. Agnes Medical Center and co-chair of the Clinical Preceptorship Program at California Health Sciences University
Interview with MarkAlain Déry, DO, Medical Director of Infectious Diseases for Access Health Louisiana
Interview with Nicole Harkin, MD, FACC, a board-certified cardiologist and clinical lipidologist, and the founder of Whole Heart Cardiology in San Francisco
Scientific Brief: Community Use of Cloth Masks to Control the Spread of SARS-CoV-2. Coronavirus Disease 2019 (COVID-19). U.S. Centers for Disease Control and Prevention. November 10, 2020. https://www.cdc.gov/coronavirus/2019-ncov/more/masking-science-sars-cov2.html.
Somsen GA, et al. Small droplet aerosols in poorly ventilated spaces and SARS-CoV-2 transmission. The Lancet Respiratory Medicine. May 27, 2020. https://dx.doi.org/10.1016/S2213-2600(20)30245-9.
Stadnytskyi V, et al. The airborne lifetime of small speech droplets and their potential importance in SARS-CoV-2 transmission. Proceedings of the National Academy of Sciences of the United States of America. June 2, 2020. https://dx.doi.org/10.1073/pnas.2006874117.
Thompson D. Mask Up and Shut Up. The Atlantic. August 31, 2020. https://www.theatlantic.com/ideas/archive/2020/08/wear-your-mask-and-stop-talking/615796/.