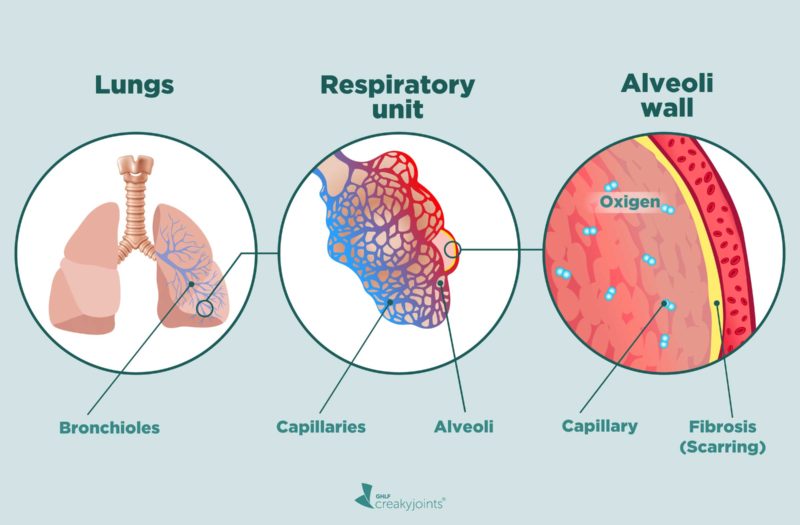 Rheumatoid arthritis (RA) is best known for afflicting the joints, but it can also wreak havoc on other parts of the body, including the lungs. A substantial portion of RA patients end up developing interstitial lung disease (ILD), a condition that most often occurs when chronic inflammation causes the tissue between the tiny air sacs in the lungs to scar and stiffen.
But no one knows exactly why one person with RA might develops ILD yet another doesn't.
Now a new study, presented during the European E-Congress of Rheumatology 2020, held virtually by the European League Against Rheumatism (EULAR), sheds some more light on the subject. The researchers used info from a large American database of rheumatology patients (called JointMan) and found that 337 out of 8,963 RA patients were diagnosed with ILD.
Compared to RA patients without interstitial lung disease, those who developed ILD tended to have:
Significantly higher RA disease activity scores
Rheumatoid factor and anti-cyclic citrullinated peptide antibodies
Chronic obstructive pulmonary disease (COPD)
Erosive joint disease
Rheumatoid nodules
Age may also be a factor. Those with ILD were mostly older (average age 66) than those people whose lungs remained healthy. The ILD diagnosis was usually made about two years after their RA diagnosis.
"Patients with ILD had a higher proportion of comorbidities and RA-related conditions and higher RA activity," the authors concluded. "Further analysis is warranted to assess the risk factors of ILD and its prognosis."
Found This Study Interesting? Get Involved
If you are diagnosed with arthritis or another musculoskeletal condition, we encourage you to participate in future studies by joining CreakyJoints' patient research registry, ArthritisPower. ArthritisPower is the first-ever patient-led, patient-centered research registry for joint, bone, and inflammatory skin conditions. Learn more and sign up here.