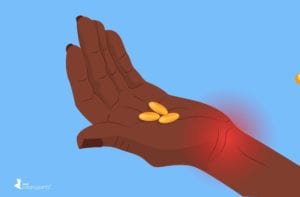 Many people with arthritis report getting more relief when they add home remedies and alternative treatments to their standard medical care. One that many doctors consider worth a try is supplementation with omega-3 fatty acids.
Dietary consumption of omega-3 fatty acids is associated with lower levels of inflammation in the body (see below for good food sources), and small randomized trials have shown promise that taking omega-3 supplements might improve the symptoms of rheumatoid arthritis (RA). For example, in one short (12-week) and small (60-person) study from Iran, published in 2016, omega-3 fatty acid supplementation significantly reduced pain and the number of swollen joints in newly diagnosed patients with RA who were also under standard treatment with disease-modifying antirheumatic drugs.
To investigate further, researchers from Brigham & Women's Hospital decided to look at the association between omega-3 supplementation and disease activity in patients being followed for many years as part of the long-term Brigham & Women's Rheumatoid Arthritis Sequential Study (BRASS). The study, started in 2003, collects information from participants twice a year (including their supplement use), and conducts standardized exams on participants in conjunction with their annual rheumatology appointments.
In the current analysis, reported at the 2019 American College of Rheumatology/Association of Rheumatology Professionals Annual Meeting in Atlanta, researchers looked at changes in exam results in the year after 640 participants had started taking an omega-3 supplement (on average, they continued for 33 months). Those were compared to changes in 917 patients who did not take supplements and who enrolled in the registry at the same time the others started taking supplements.
Twelve months later, omega-3 users were more likely to have significantly fewer painful or swollen joints and to have a significantly lower score on the Disease Activity Score 28, a common tracking system that considers the number of swollen and tender joints in addition to blood test results and your assessment of your pain and ability to function.
The results were adjusted for seropositivity, age, gender, education, and the use of various medications.
"These findings suggest the need for further study of omega-3 supplementation with particular attention to dosage and duration of use as an adjunct to conventional medicine for RA," the investigators wrote.
There are 3 types of omega-3 fatty acids: EPA (eicosapentaenoic acid), DHA (docosahexaenoic acid), and ALA (alpha-linolenic acid). EPA and DHA are found in cold-water fish, such as salmon and herring, and other seafood. ALA is found in nuts and seeds, such as flaxseed and walnuts, and in certain plant oils such as flaxseed and soybean oil.
Some foods, including certain brands of eggs and soy drinks, are fortified with omega-3s, but the highest doses are contained in supplements. Omega-3 supplements come in a wide range of forms and doses. The Food and Drug Administration (FDA) recommends consuming no more than 2 grams/day from dietary supplements (unless your doctor has prescribed a prescription-only 4-gram omega-3 supplement to lower extremely high triglyceride levels).
Track Your Medications with ArthritisPower
Join CreakyJoints' patient-centered research registry and log your medications to track side effects and impact on disease activity. Learn more and sign up here.
Keep Reading