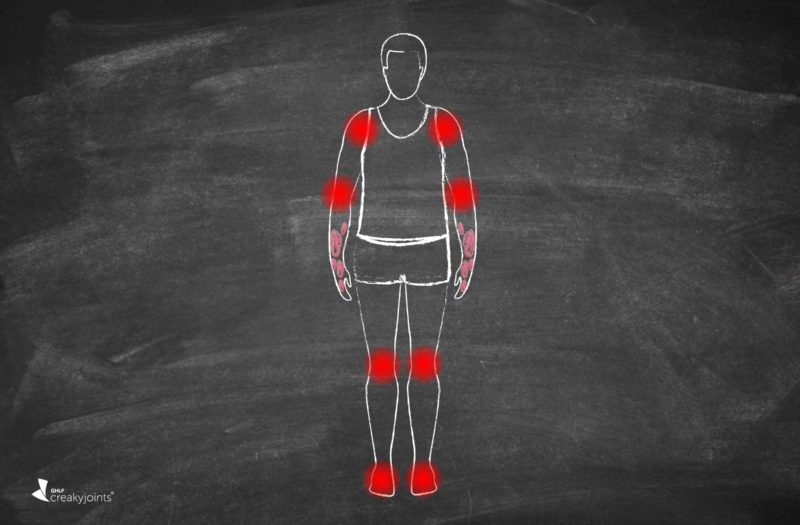 Psoriatic arthritis (PsA), an inflammatory form of arthritis, is usually characterized by joint pain and stiffness coupled with scaly skin plaques (psoriasis). A variety of treatments can help ease both joint and skin symptoms, but it's not uncommon for certain PsA symptoms to improve while others persist.
While joint pain and mobility might seem like a bigger deal than psoriasis — which some people mistakenly believe is merely about aesthetics — PsA patients who continue to struggle with their skin fare significantly worse than those who only have joint pain, according to a new study.
The research, which was published in the journal Rheumatology and Therapy, was an international survey of physicians and patients that provided info on about 3,200 people with psoriatic arthritis.
The researchers inquired about patients' quality of life, disease activity, and ability to work productively. They split the patients into two groups in order to compare those who were currently experiencing joint symptoms with those who were experiencing joint as well as skin symptoms.
"Patients with 'joint and skin' involvement reported significantly worse [quality of life], work productivity, and activity impairment than 'joint-only' patients," the authors wrote.
The groups also differed in terms of mental well-being.
"Anxiety/depression was experienced by 41.4 percent of patients, 62.4 percent of whom indicated that both joint and skin symptoms were the cause… Severe skin symptoms and additional number of affected joints clearly have a detrimental impact on outcomes in the respective patient populations," the researchers explained.
While these findings might not seem terribly surprising, they're a good reminder that physical discomfort isn't the only reason to seek treatment or talk to your provider about changing up your regimen if any aspect of your condition isn't well-controlled.
Not Sure What's Causing Your Pain?
Check out PainSpot, our pain locator tool. Answer a few simple questions about what hurts and discover possible conditions that could be causing it. Start your PainSpot quiz.
Tillett W, et al. Disease Characteristics and the Burden of Joint and Skin Involvement Amongst People With Psoriatic Arthritis: A Population Survey. Rheumatology and Therapy. September 2020. doi: https://doi.org/10.1007/s40744-020-00221-8.