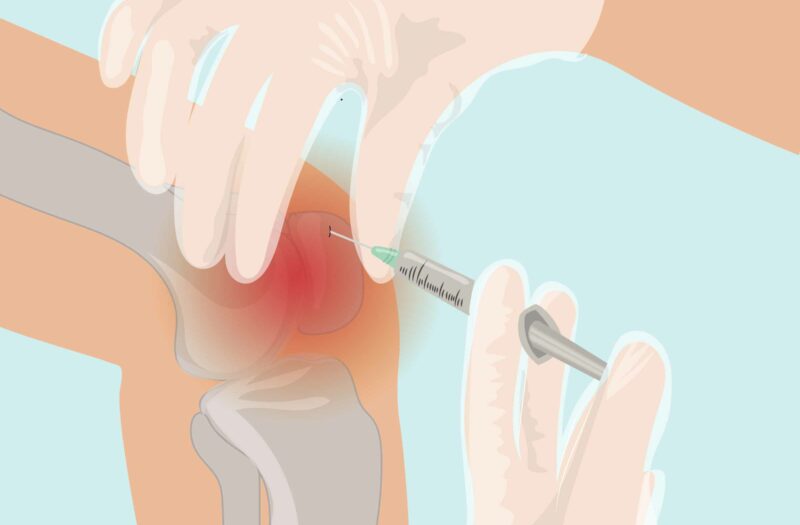 Key Takeaways
Past research on platelet-rich plasma (PRP) for knee osteoarthritis has been mixed.
Now a large randomized trial did not find that PRP was better at improving pain or cartilage damage compared to a placebo.
Platelet-rich plasma therapy, or PRP, has been touted as a treatment for everything from hair loss and wrinkles to tendon injuries and osteoporosis. But does it work? While there's some evidence that PRP has its place in medicine — it's been shown, for instance, to help speed post-op healing after oral surgery — a new study finds that it doesn't seem to help as a treatment for knee osteoarthritis.
PRP is based on the premise that your body can heal itself, which it does all the time thanks in part to various growth factors (proteins or hormones that speed healing). Many of these growth factors are found in blood cells called platelets. To use PRP, a doctor draws some of your blood and separates out the platelets in order to create a blood sample that's especially rich with platelets. This concentrated formula can then be injected into an area of your body that needs help healing.
For people with knee osteoarthritis, PRP can be injected directly into the impacted joint, but whether this is beneficial has been unclear. Previously, research on PRP for OA has been mixed, with some studies showing it helps and others not finding benefit.
Now a large randomized study adds to the evidence against using platelet-rich plasma for knee osteoarthritis.
The new study, which was published in JAMA, took 288 adults age 50 and older with mild to moderate knee OA and randomly assigned them to get PRP injections or placebo injections once a week for three weeks. (The placebo injections contained saline.)
A year later, the two groups were almost identical in terms of knee pain scores and change in cartilage volume (as visible on MRIs).
"There was no evidence of a statistically significant between-group difference in change in overall knee pain between PRP and placebo," the authors wrote, noting that pain scores improved by about 32 to 37 percent in both groups during the follow-up period. "Thus, the trial results do not support use of this procedure (with a mean cost per injection reported as $2,032) for treating knee OA."
In an accompanying editorial in JAMA, Jeffrey Katz, MD, an Associate Professor of Medicine and Orthopaedic surgery at Harvard Medicine School, wrote that PRP "is an example of a promising laboratory discovery" that was quickly translated to use in patients but that the latest evidence suggests that it's not worthwhile for knee OA. He also noted that other recent studies on PRP for ankle OA and Achilles tendinitis have been similarly unsuccessful.
"Until a new generation of trials using standardized approaches to PRP therapy provides evidence of efficacy, it would be prudent to pause the use of PRP for OA and Achilles tendinitis," he wrote.
Found This Study Interesting? Get Involved
If you are diagnosed with arthritis or another musculoskeletal condition, we encourage you to participate in future studies by joining CreakyJoints' patient research registry, ArthritisPower. ArthritisPower is the first-ever patient-led, patient-centered research registry for joint, bone, and inflammatory skin conditions. Learn more and sign up here.