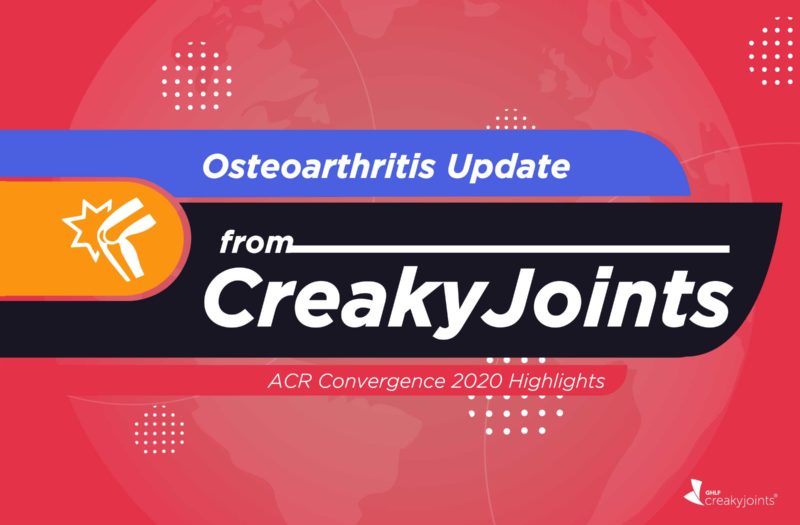 COVID-19 may have changed the format of this year's annual medical meeting of the American College of Rheumatology — it was held completely virtually — but the pandemic did not disrupt the sharing of important research that directly impacts people living with osteoarthritis (OA).
The CreakyJoints team combed through hundreds of studies, attended sessions from top osteoarthritis experts, and asked our team of patient and physician advisors to share the updates they deemed most important.
We curated this guide to osteoarthritis research and trends from ACR you should be aware of.
For more research breakthroughs from ACR Convergence 2020, check out our main guide: ACR 2020: 100+ Arthritis and Rheumatic Disease Updates Patients Must Know About.
1. Warfarin could increase the risk of needing a hip or knee replacement
Warfarin is a drug that is often prescribed to prevent blood clots — especially in people with the heart condition atrial fibrillation — but it may pose a risk to your joints if you have osteoarthritis, compared with other types of medications that prevent blood clots.
Warfarin works by reducing the action of vitamin K, which plays a role in helping your blood clot. However, vitamin K is also important for bone and cartilage health.
A team of researchers from Boston University Medical School and Erasmus Medical Center in the Netherlands looked at a group of people who had knee and hip replacements and were taking either warfarin or other anti-clotting medications (because they had atrial fibrillation) and compared them with a control group of patients taking these medications but did not have joint replacement surgery. The researchers found that, after adjusting for potential cofounders, warfarin users had 1.57 times higher chances of having hip or knee replacement than people taking other blood-clotting medications.
This research suggests that it's important to have adequate levels of vitamin K to help limit the progression of osteoarthritis. Read more here about the findings.
2. Knee steroid injections do not seem to increase the need for earlier knee replacement surgery 
Corticosteroid injections in the knee are a common pain treatment for osteoarthritis. But past research has suggested that getting such injections can actually worsen OA disease progression. However, those findings have been controversial and disputed, in part because patients in the studies already had advanced knee OA, which is itself a risk factor for disease progression.
Now new research suggests that steroid injections do not make people more likely to need knee replacement sooner. Researchers used two large group studies of knee osteoarthritis patients who received either corticosteroid or hyaluronic acid injections (a different kind of OA treatment) to review rates of radiographic progression (joint damage you can see on X-rays) and total knee replacement surgery.
People who got corticosteroid injections did not have a higher risk of radiographic progression or needing a total knee replacement (two signs of worsening knee osteoarthritis) compared to people who got hyaluronic acid injections.
"Patients and clinicians should see this study and feel reassured that these injections are not causing progression of osteoarthritis or earlier total knee replacement," study coauthor Justin J. Bucci, MD, Assistant Professor of Medicine at Boston University School of Medicine, said in a press release. Learn more here about the findings.
3. Methotrexate may help reduce inflammation and damage in knee osteoarthritis 
Methotrexate is a disease-modifying drug commonly used to reduce inflammation in inflammatory conditions like rheumatoid arthritis or psoriatic arthritis. But could it also be effective for knee osteoarthritis, which is not driven by systemic inflammation?
Researchers at SSKM Hospital in Kolkata, India compared oral methotrexate to a placebo treatment with glucosamine (a common arthritis supplement taken for pain relief) in adults with knee osteoarthritis.
Patients with knee osteoarthritis with evidence of inflammation in the joint showed significant improvements on WOMAC scores (a measurement of physical function) and decreases in levels of erythrocyte sedimentation rate and C-reactive protein (measures of inflammation in the blood) after three months of taking oral methotrexate. Meanwhile, those on glucosamine showed no significant improvement in these measures of inflammation and function.
The results of this study suggest that methotrexate can be an effective intervention for people with knee osteoarthritis who experience pain and inflammation. Read more here about the findings.
4. The biologic medication tocilizumab (Actemra) did *not* improve hand osteoarthritis
Meanwhile, research on a different disease-modifying medication, tocilizumab (Actemra), showed that the medication did not work any better than a placebo for hand osteoarthritis, reported French researchers.
Patients who were randomized to get two infusions of tocilizumab four weeks apart did not have any significant differences in such measures as self-reports of pain, the number of painful or swollen joints, or duration of morning stiffness compared with people who got a placebo treatment.
It was hoped that the medication, which targets an inflammatory protein called interleukin-6 (IL-6) and is approved to treat autoimmune conditions like rheumatoid arthritis and juvenile idiopathic arthritis, might also work in osteoarthritis by reducing aspects of inflammation that can play a role. But this study did not show a benefit and — what's more — there were slightly more adverse events in the people who took tocilizumab compared to the placebo.
5. The biologic medication tanezumab shows lasting benefits in pain reduction
Approved medications for osteoarthritis are limited, so new potential therapies draw a lot of excitement. One treatment that has been in the spotlight for a few years is tanezumab. It's an injection (placed in the knee or hip) that inhibits a protein called nerve growth factor, which is thought to play a role in OA pain. This medication works very differently from other pain relief options, such as NSAIDs or opioids. If shown to be effective and safe, it would be a welcome tool in the OA treatment arsenal.
A number of studies on tanezumab were shared at this year's ACR meeting, and the news seems mostly promising. One study led by Thomas Schnitzer, MD, of Northwestern University, looked at improvements in OA pain after 16 weeks of getting the medication. It found that a significantly greater proportion of patients who got tanezumab had a "clinically important improvement" in pain compared with people who got a placebo.
A different study, led by Boston University rheumatologist Tuhina Neogi, MD, followed patients who got tanezumab over time to see whether the benefits lasted. The medication continued to show benefits in pain reduction that lasted through the study period (up to 56 weeks).
One hitch with tanezumab was that in trials years ago, "they started seeing rapidly progressive joint destruction in people who received these," explains Boston University rheumatologist Jean Liew, MD (who was not involved with the research). "The FDA put a partial hold on the trials in 2015 and investigated whether this joint destruction was due to rapid progression of the underlying OA that people had when they entered the trials, or if the medication was causing it." After further investigation, tanezumab trials were able to resume with more vigorous screening of participants (so people deemed at higher risk of this rapidly progressive joint destruction would not be able to enter the trial). Since higher doses of tanezumab and combinations of tanezumab with NSAIDs seemed to put people at higher risk (or at least was associated with more of these adverse joint events), the trials after 2015 have been restricted to tanezumab alone and at lower doses (compared to placebo).
In these newer trials, they haven't seen an increase in reports of joint safety events, Dr. Liew notes. The medication is not yet FDA-approved.
If it gets approved, Dr. Liew says it will likely be used for people with significant pain after trying other treatments. "It may be an option for people who have not had good enough pain relief from other modalities and are not going to have joint replacement surgery."
6. Bariatric surgery can help improve knee function and delay knee replacement
Obesity is a known risk factor for osteoarthritis. Many people who are obese and require knee replacement surgery are counseled to lose weight first, which helps reduce the risk of post-surgery complications. However, weight loss is often difficult and bariatric surgery may be recommended.
A team of researchers is studying people who receive bariatric surgery to understand the impact on knee pain and function compared with obese patients who have knee replacement surgery without weight loss surgery first.
In initial findings, people who underwent bariatric surgery had comparable improvements in certain measures of pain and knee function compared with people who had knee replacement surgery. The researchers concluded that "bariatric surgery may result in modest improvements in knee outcomes and may eventually delay the need for a [knee replacement]."
Rheumatologist Janet Pope, MD, Professor of Medicine in the Division of Rheumatology and Epidemiology and Biostatistics at the University of Western Ontario in Canada, said in a video on RheumNow that this research shows "if you get bariatric surgery, your knee OA does improve a bit, so that's another benefit for those patients."
7. The severity of hand osteoarthritis is linked with overall body fat
Over the last four years, researchers at New York University established a registry of people with hand osteoarthritis (and not other forms of hand joint pain, such as rheumatoid arthritis psoriatic arthritis, or lupus) to understand factors that contribute to the prevalence and severity of hand OA. Researchers collect patients' questionnaires about pain, stiffness, and function; hand X-rays if available; and blood and urine samples.
In an initial analysis of the 170 people enrolled so far, researchers found that people with a body mass index (BMI) greater than 30 (which is considered obese) had more hand pain, stiffness, and disability compared to people with a healthy body weight (BMI less than 25).
They also found that women reported significantly more disability and a higher average number of joints affected than men with similar ages and BMI. A small subgroup of likely perimenopausal women (ages 48-54) reported more pain and disability than their older counterparts, despite a lower average BMI and fewer hand joints affected by OA.
The study authors suspect that "hormonal influences during the perimenopausal state may increase [hand osteoarthritis] symptoms during those years." More research is needed to understand the role that weight and body fat may play in the onset and severity of hand OA.
8. Many osteoarthritis patients are at risk for adverse events from non-steroidal anti-inflammatory medications (NSAIDs)
 Non-steroidal anti-inflammatory medications (NSAIDs), such as ibuprofen (Advil) and naproxen (Aleve), as well as prescription versions, are pain relief staples for osteoarthritis. However, even though these medications are commonly used, they have side effects that patients need to know about — including gastrointestinal bleeding and an increased risk of cardiovascular and kidney function issues.
For people with certain health issues, these potential side effects could be serious enough to "contraindicate" NSAIDs (meaning, that people shouldn't take them) or at least make sure they watch their usage closely.
But research suggests that many people with hip and knee osteoarthritis have risk factors that could increase their risk for NSAID-related adverse events. Researchers studied an insurance claims database and identified 218,349 people with hip or knee OA. They found that more than one-third had risk factors that could increase their risk for NSAID-related adverse events. Of these, approximately 50 percent of people had evidence of prescription NSAID use that was inconsistent with safety recommendations.
The study authors concluded that "these results emphasize the need to consider the risks associated with NSAIDs and to individualize osteoarthritis management strategies to mitigate the risk of NSAID-related adverse events."
If you take NSAIDs regularly and have not talked to your doctor about potential side effects, it's a good idea to check in and make sure your dosage is safe given your personal health history.
9. 'Patient readiness' helps improve the results from knee replacement surgery
 For many osteoarthritis patients, coming to the decision that joint replacement surgery is needed isn't always easy. There could be some denial that the pain and disability has gotten so bad as to necessitate surgery, or concerns about the procedure or recovery process. But being mentally prepared for joint replacement seems to impact how well you'll feel and function afterward, report a team of Canadian researchers.
They asked people who were about to undergo knee replacement surgery to fill out surveys ahead of time that assessed "patient readiness," how willing people were to undergo surgery, and how they coped with arthritis pain. Researchers then assessed participants a year after their procedures to see whether or not they had a good outcome (defined as improvement in knee symptoms and general satisfaction with the results).
Of 1,272 participants, 79 percent reported a good knee replacement outcome. The patients whose assessments showed that they were "more psychologically ready" had higher odds of having a good outcome. The researchers call for incorporating these kinds of questionnaires into the decision-making process for patients and doctors when discussing surgery as an osteoarthritis treatment.
10. Walking for exercise may actually prevent the progression of knee osteoarthritis 
Walking is widely recommended as low-impact exercise for people with knee osteoarthritis. It can also help with weight management, which is important for reducing stress on arthritic knees. Now research shows that people with knee arthritis who walk for exercise may actually have fewer painful symptoms and less structural damage over time.
Researchers studied 1,203 participants, taking X-rays of their knees at the start of the study and then four years later. About three-quarters of people said they walked for exercise. New knee pain was less common in people who walked and walking was associated with less structural progression of OA (as measured by looking at changes on X-rays) in patients with certain types of knee alignment.
The study's authors concluded that "these findings support that walking for exercise should be encouraged for most people with knee OA."
You Can Participate in Osteoarthritis Research Too
If you are diagnosed with osteoarthritis or another musculoskeletal condition, we encourage you to participate in future studies by joining CreakyJoints' patient research registry, ArthritisPower. ArthritisPower is the first-ever patient-led, patient-centered research registry for joint, bone, and inflammatory skin conditions. Learn more and sign up here.
Ballal P, et al. Warfarin Use and Risk of Knee and Hip Replacements [abstract]. Arthritis & Rheumatology. Accessed October 29, 2020. https://acrabstracts.org/abstract/warfarin-use-and-risk-of-knee-and-hip-replacements.
Bucci J, et al. Progression of Knee OA with Use of Intra-articular Corticosteroids (CS) vs Hyaluronic Acid (HA) [abstract]. Arthritis & Rheumatology. November 2020. https://acrabstracts.org/abstract/progression-of-knee-oa-with-use-of-intra-articular-corticosteroids-cs-vs-hyaluronic-acid-ha.
Ghosh B, et al. Comparison of Methotrexate and Glucosamine in Primary Knee Osteoarthritis with Inflammation [abstract]. Arthritis & Rheumatology. November 2020. https://acrabstracts.org/abstract/comparison-of-methotrexate-and-glucosamine-in-primary-knee-osteoarthritis-with-inflammation.
Hawker G, et al. The Relationship Between Patient-Reported Readiness for Total Knee Arthroplasty and the Likelihood of a Good Outcome at One Year [abstract]. Arthritis & Rheumatology. November 2020. https://acrabstracts.org/abstract/the-relationship-between-patient-reported-readiness-for-total-knee-arthroplasty-and-the-likelihood-of-a-good-outcome-at-one-year.
Interview with Jean Liew, MD, Assistant Professor of Rheumatology at Boston University Medical Center
Lo G, et al. Walking for Exercise May Be Symptom and Structure Modifying for Those with Established OA and with Varus Alignment – Data from the Osteoarthritis Initiative [abstract]. Arthritis & Rheumatology. November 2020. https://acrabstracts.org/abstract/walking-for-exercise-may-be-symptom-and-structure-modifying-for-those-with-established-oa-and-with-varus-alignment-data-from-the-osteoarthritis-initiative.
Neogi T, et al. Observed Efficacy with Subcutaneous Tanezumab Is Early and Maintained in Patients with Osteoarthritis: Results from a 56-Week Randomized NSAID-Controlled Study [abstract]. https://acrabstracts.org/abstract/observed-efficacy-with-subcutaneous-tanezumab-is-early-and-maintained-in-patients-with-osteoarthritis-results-from-a-56-week-randomized-nsaid-controlled-study.
Osteoarthritis Studies: Dr. Janet Pope. RheumNow. November 9, 2020. https://rheumnow.com/video/osteoarthritis-studies-dr-janet-pope.
Patel J, et al. Use of Prescription Nonsteroidal Anti-inflammatory Drugs (NSAIDs) in Adults with Hip/Knee Osteoarthritis (OA) at Increased Risk for NSAID-related Adverse Events [abstract]. Arthritis & Rheumatology. November 2020. https://acrabstracts.org/abstract/use-of-prescription-nonsteroidal-anti-inflammatory-drugs-nsaids-in-adults-with-hip-knee-osteoarthritis-oa-at-increased-risk-for-nsaid-related-adverse-events.
Richette P, et al. Efficacy of Tocilizumab in Patients with Hand Osteoarthritis: Double Blind, Randomized, Placebo Controlled, Multicenter Trial [abstract]. Arthritis & Rheumatology. November 2020. https://acrabstracts.org/abstract/efficacy-of-tocilizumab-in-patients-with-hand-osteoarthritis-double-blind-randomized-placebo-controlled-multicenter-trial.
Samuels J, et al. Knee OA Outcomes in Patients with Severe Obesity Following Bariatric Surgery or Total Knee Arthroplasty [abstract]. Arthritis & Rheumatology. November 2020. https://acrabstracts.org/abstract/knee-oa-outcomes-in-patients-with-severe-obesity-following-bariatric-surgery-or-total-knee-arthroplasty.
Schnitzer T, et al. Clinically Important Improvement in Osteoarthritis Pain at Week 16 After Subcutaneous Administration of Tanezumab: Pooled Analysis from International Studies [abstract]. Arthritis & Rheumatology. November 2020. https://acrabstracts.org/abstract/clinically-important-improvement-in-osteoarthritis-pain-at-week-16-after-subcutaneous-administration-of-tanezumab-pooled-analysis-from-international-studies.